When:
February 26, 2023
all-day
2023-02-26T00:00:00-05:00
2023-02-27T00:00:00-05:00
February 26, 1866 : Herbert Henry Dow born.  Died October 16, 1930.
Herbert Dow, Age 3.
The son of a mechanical engineer and inventor, Dow  displayed prodigious abilities in many capacities at an early age. He maintained a garden, held a job, assisted his father with many mechanical problems, and invented an incubator for chicken eggs all before age 12. As a high school student, he coinvented, with his father, a small steam turbine, which the U.S. Navy used for many years in torpedo propulsion. Dow graduated from Cleveland's Central High School in 1884 and immediately enrolled in Case School of Applied Science, now known as Case Western Reserve University.
As a student at the Case School of Applied Science (now Case Western University) in Cleveland, Herbert abandoned his first senior thesis, "A New Method for Mining Native Copper," halfway through his last year of college after he became dissatisfied with how his research was progressing. Instead he began to study boiler fuels and their chemical composition. For a college project, he tested gas wells in Ohio and Midland, Michigan. One day, a worker gave him a sample of the bitter brine he had found while drilling. The encounter left an impression on Herbert, who seemed to grasp that a sea of chemical raw materials flowed not far below the Earth's surface.
Herbert Dow, Age 22.
Not long after he graduated, Dow came up with a more affordable method to extract bromine – which was used in medicines and photographic materials – from brine, and opened his first company, the Canton Chemical Company. It went bankrupt. The second, the Midland Chemical Company, opened in 1890. There he oxidized the brine by electrolysis, a method he also wanted to use to make sodium hydroxide and chlorine to be turned into bleach powder. His financial backers balked at his ideas for diversification and removed him from control. Realizing he would need a new company to move forward with the manufacture of chlorine, Herbert secured new investments and founded a third company, The Dow Process Company.
In 1896 he moved both company and family back to Midland, where the company's name officially changed to The Dow Chemical Company in May 1897. From the very beginning, he vowed to make The Dow Chemical Company a research organization, devoted to developing new processes and extracting new products from brine. The company was an immediate success. Just three years later, his company absorbed Midland Chemical Company.
Eventually, Dow Chemical would grow to make many products from Midland's brine in addition to bromine and chlorine, including calcium, magnesium, iodine, and sodium compounds. For many common consumer products, such as Epsom salt, Dow Chemical was the largest producer in the world
The world's greatest chemical supplier at the onset of World War I was Germany. During the war, however, Britain blockaded Germany's export ports. Dow Chemical began producing several desperately needed products that became difficult to get because of the blockade. Dow rose to the occasion by producing massive amounts of phenol for explosives; bromine for medicines and tear gas; chlorine for chloroform; sulphur chloride for smokescreens; monochlorobenzine for explosives; and magnesium for incendiary flares. By 1918, 90 percent of Dow's production was in support of the war effort.
One of Dow's greatest achievements during the era of World War I was synthetic indigo. Indigo dye, used primarily in textiles, was consumed in larger amounts than any other dye. The Dow Chemical Company was the first American chemical company to make synthetic indigo, shipping out the first indigo dye in March 1917.
After the War ended, Herbert Dow channeled his research into the automotive industry. With so much magnesium left over from war production, he researched what beneficial uses this extremely light metal could have. He decided that if magnesium were used to make replacement automobile pistons, it would give cars more speed, better fuel efficiency, and perhaps a little more zip. In his newly designed metallurgical laboratory, Dowmetal was born. Dowmetal pistons found the most success in racing vehicles, from boats to motorcycles. The 1921 the winner of the Indianapolis 500 used Dowmetal pistons in his vehicle.
Continuing in the automobile industry, Herbert Dow worked with General Motors in 1921 to create a "no-knock" gasoline. What resulted was tetraethyl lead, a fuel additive that had a high bromine content. Due to the enormous amounts of bromine needed to produce tetraethyl lead, Dow's colleagues wondered where he could get such huge quantities of brine from which to extract bromine. To him, the answer was obvious—from the ocean.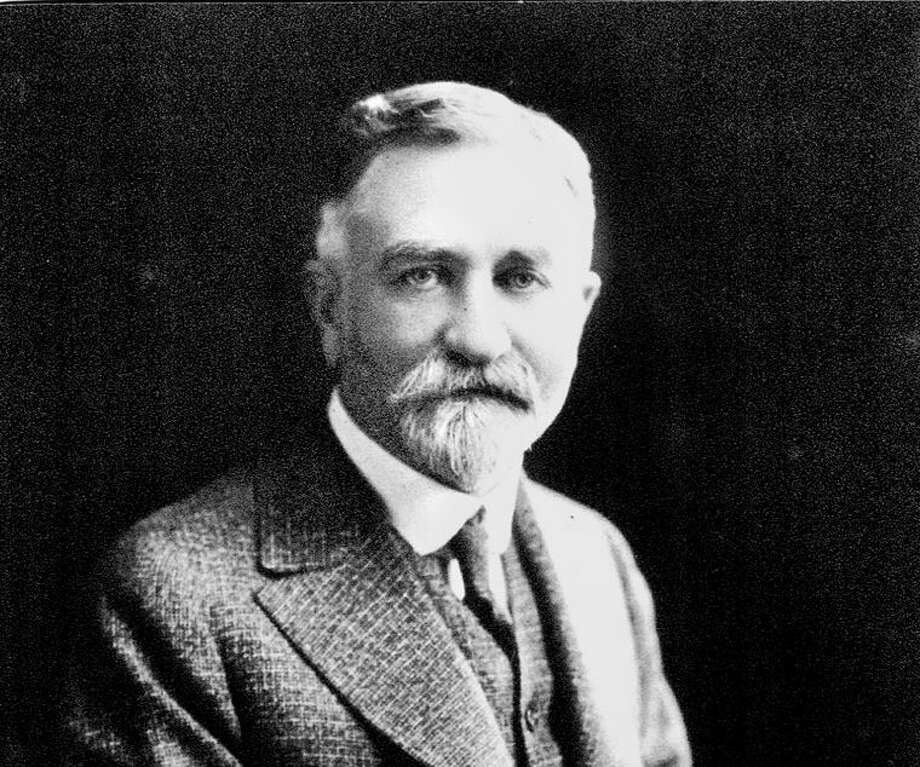 The extraction of bromine from seawater would be Herbert Dow's last significant undertaking. He died from cirrhosis of the liver in October 1930, just seven months after receiving the Perkin Medal "in recognition of his achievements in the production of bromine, alkalies, magnesium and its salts and alloys, and phenols, and for other developments in industrial chemistry resulting from the activities of his company."
Willard H. Dow, who took over The Dow Chemical Company after his father's death, completed his father's project of extracting bromine from ocean water. The first plant built to extract bromine from seawater opened on the North Carolina coast in 1934.
The Dow logo evolved from the doodles of Herbert Dow in 1918. Dow noticed that his employees used to mark shipping containers with four slashes, forming a diamond shape, and the name "DOW" inscribed within the slashes. Dow himself worked over his scribblings with two other staff members, making minor adjustments. Shortly after, the Dow logo was born. By 1919, the Dow logo was internationally recognizable. The logo today looks basically the same as it did on Herbert Dow's scratch pad more than 80 years ago.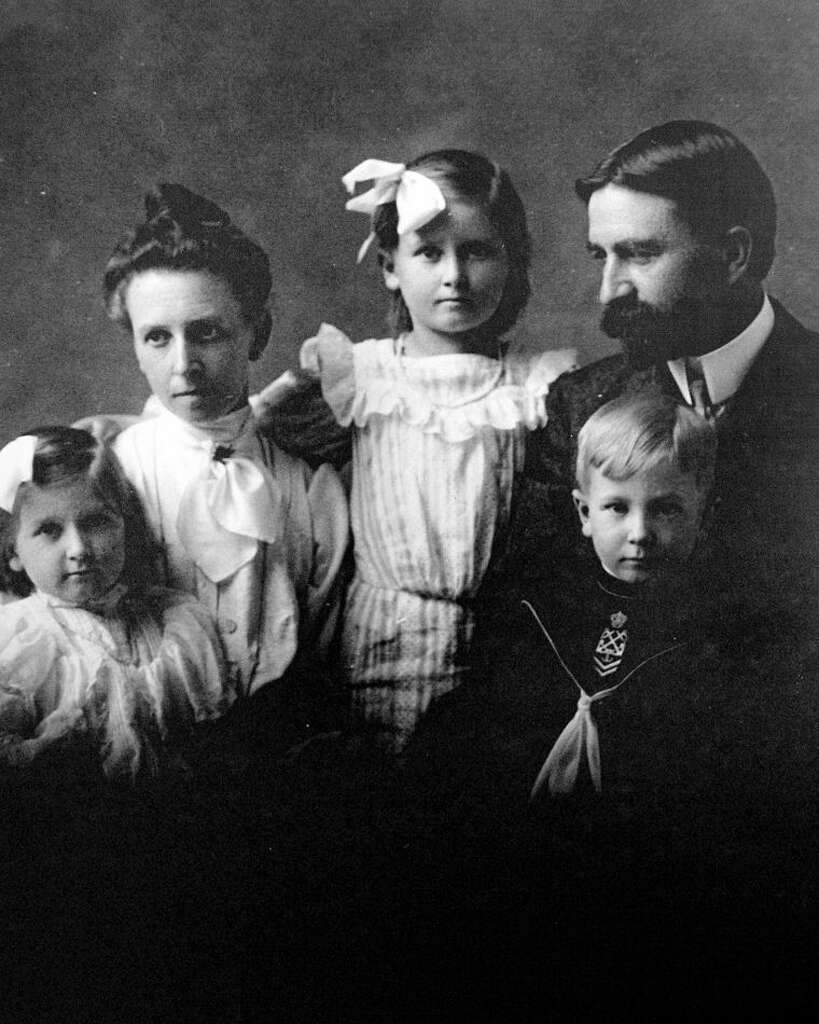 Some Midlanders wondered why a pretty young woman like Grace Ball would waste her time on a young man who had no money and seemingly not much of a future. Their courtship consisted of notes carried by one of Grace Ball's students between the two young people. One observer commented, "If those two don't get married, that boy is going to wear himself out riding that bicycle."  They married on Nov. 16, 1892 and their marriage seemed an omen of better things to come. Finding new partners to furnish money for a factory, Dow purchased 10 acres of land on the east end of Main Street on the banks of the Tittabawassee River, dug two brine wells, put up some wooden buildings and The Dow Chemical Co. was incorporated on May 18, 1897 to make bleach. Herbert and Grace became parents of Helen (1894), Ruth (1895), Willard (1897) and Osborne (1899). And in 1899, the young Dow family moved into their new home on West Main Street — the only home that Dow ever owned.
Herbert Dow literally put down roots in Midland. The orchards and gardens he planted around his home offered not only relaxation and an opportunity to research agricultural chemicals during his lifetime; they are now part of his legacy to the community.  For more information, see Dow Gardens.
Sources:
Virginia Florey, "The Legacy of Herbert Henry Dow", Midland Daily News, Ocrober 7, 2015.
The Making of a Successful Entrepreneur courtesy of the Dow Chemical Company
Chemical Heritage Organization Herbert Henry Dow entry
Lansing Michigan Walk of Fame : Henry Herbert Dow
Herbert Henry Dow wikipedia entry
Growth Company: Dow Chemical's First Century, by E.N. Brandt, published by Michigan State University Press