When:
2018-10-04T00:00:00-04:00
2018-10-05T00:00:00-04:00
Joseph Frank "Buster" Keaton (October 4, 1895 – February 1, 1966) was an American actor, comedian, film director, producer, screenwriter, and stunt performer.
Keaton acquired the nickname "Buster" at about 18 months of age. Keaton told interviewer Fletcher Markle that Houdini was present one day when the young Keaton took a tumble down a long flight of stairs without injury. After the infant sat up and shook off his experience, Houdini remarked, "That was a real buster!" According to Keaton, in those days, the word "buster" was used to refer to a spill or a fall that had the potential to produce injury. After this, Keaton's father began to use the nickname to refer to the youngster. Keaton retold the anecdote over the years, including a 1964 interview with the CBC's Telescope.
At the age of three, Keaton began performing with his parents in The Three Keatons. He first appeared on stage in 1899 in Wilmington, Delaware.  The act was mainly a comedy sketch. Myra played the saxophone to one side, while Joe and Buster performed on center stage. The young Keaton would goad his father by disobeying him, and the elder Keaton would respond by throwing him against the scenery, into the orchestra pit, or even into the audience. A suitcase handle was sewn into Keaton's clothing to aid with the constant tossing. The act evolved as Keaton learned to take trick falls safely; he was rarely injured or bruised on stage. This knockabout style of comedy led to accusations of child abuse, and occasionally, arrest. However, Buster Keaton was always able to show the authorities that he had no bruises or broken bones. He was eventually billed as "The Little Boy Who Can't Be Damaged", with the overall act being advertised as "The Roughest Act That Was Ever in the History of the Stage". Decades later, Keaton said that he was never hurt by his father and that the falls and physical comedy were a matter of proper technical execution. In 1914, Keaton told the Detroit News: "The secret is in landing limp and breaking the fall with a foot or a hand. It's a knack. I started so young that landing right is second nature with me. Several times I'd have been killed if I hadn't been able to land like a cat. Imitators of our act don't last long, because they can't stand the treatment."
Keaton claimed he was having so much fun that he would sometimes begin laughing as his father threw him across the stage. Noticing that this drew fewer laughs from the audience, he adopted his famous deadpan expression whenever he was working.
He was best known for his silent films, in which his trademark was physical comedy with a consistently stoic, deadpan expression, earning him the nickname "The Great Stone Face". Critic Roger Ebert wrote of Keaton's "extraordinary period from 1920 to 1929, [when] he worked without interruption on a series of films that make him, arguably, the greatest actor–director in the history of the movies". His career declined afterward with a dispiriting loss of his artistic independence when he was hired by Metro-Goldwyn-Mayer, his wife divorced him, and he descended into alcoholism. He recovered in the 1940s, remarried, and revived his career to a degree as an honored comic performer for the rest of his life, earning an Academy Honorary Award.
Many of Keaton's films from the 1920s, such as Sherlock Jr. (1924), The General (1926), and The Cameraman (1928), remain highly regarded, with The General widely viewed as his masterpiece. Among its strongest admirers was Orson Welles, who stated that The General was cinema's highest achievement in comedy, and perhaps the greatest film ever made. Keaton was recognized as the seventh-greatest film director by Entertainment Weekly, and in 1999, the American Film Institute ranked him the 21st greatest male star of classic Hollywood cinema.
The Muskegon, Michigan Connection:
This bronze statue of Buster Keaton along with a commemorative plaque was purchased and placed in front of the Frauenthal Center in downtown Muskegon on Western Avenue on June 30, 2010.
The Keaton statue, created by artist and sculptor Emmanuel Snitkovsky, depicts Keaton behind an early motion picture camera that towers over the 5-foot-6-inch actor and director.
For the past 15 years on the first weekend of October, a fall convention of Buster Keaton's fan club — Damfinos: International Buster Keaton Society — has been held in downtown Muskegon. The convention screens Keaton movies at the Frauenthal Theater.
The rest of the story:
In 1908, Joe Keaton, actor Paul Lucier, and agent Lew Earl founded the Actors' Colony tucked away in the Bluffton neighborhood of Muskegon between Lake Michigan and Muskegon Lake. By 1911 over two hundred vaudeville personalities flocked to Bluffton each summer. They included Keaton, his wife, Myra and his son Joseph Frank, nicknamed "Buster," who were billed as "The Three Keatons." Pascoe's Place, a local tavern, became the unofficial club headquarters.
By the late 1920s, Keaton was among the top silent movie stars and one of the most recognizable – and wealthiest – faces in the world.
Even now, his films rank high in sales around the world and several are on the Library of Congress's National Film Registry, including:
Keaton acknowledged Muskegon's impact on his artistic aesthetic throughout his career.   He often called Muskegon home.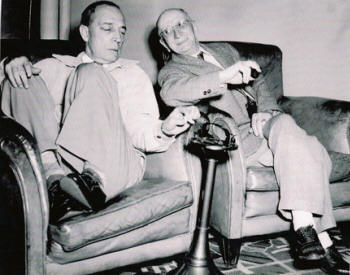 A lifelong member of the Muskegon Elks, Buster Keaton stopped by the downtown lodge during a 1949 visit to town with his new bride, Eleanor Norris Keaton.  Here he chats with former Actors' Colony member Charlie Sharp during his stay.  According to the local history book "Buster Keaton and the Muskegon Connection" by Pesch and Marc Okkonen, Keaton last visited Muskegon in 1949.  He died in 1966.
And there's more:
A hometown legend and worldwide icon is about to be memorialized once again on screen.
"Buster Keaton: Home," a documentary film on the early life of Keaton, is expected to interest national and local audiences.
Focusing on Keaton's years on the road as a young vaudeville star, summers he spent in Muskegon and the experiences that helped shape him, the film will chronicle his early life.
Sources:
Michigan Roadside Attractions: Buster Keaton Statue In Muskegon, April 9, 2016.
Actor's Colony at Bluffton, 1908-1938 : Buster Keaton and the Muskegon Connection.
Bill Iddings, "Buster Keaton set for permanent stay in Muskegon", MLive, May 30, 2010.