When:
2023-02-04T00:00:00-05:00
2023-02-05T00:00:00-05:00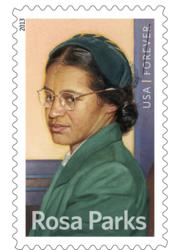 On February 4, 1913, civil rights icon Rosa Parks was born in rural Tuskegee, Alabama.
Born Rosa Louise McCauley, this remarkable woman is remembered as the "mother of the modern day civil rights movement." Most famously, she gained national attention in 1955 when she refused to give up her seat to a White male on a Montgomery, Alabama city bus. With little more than a high-school education, Rosa Parks inspired a generation of activists to fight legal segregation in the United States.
Rosa Parks being fingerprinted after being arrested for boycotting public transportation.
Later in life, Parks was bestowed with numerous honorary degrees and national awards, including the NAACP's esteemed Spingarn Medal and the Presidential Medal of Freedom, presented to her in 1996 by President Bill Clinton.
On June 18, 1997, the Michigan Legislature passed Public Act 28 stating:
(1) The legislature recognizes the outstanding contributions to American life, history, and culture made by Mrs. Rosa L. Parks, a woman of great courage, vision, love, and faith, who for decades has resided in our great state and continues to serve the state of Michigan and her country by actively laboring to achieve equality for all. In commemoration of the significant role Mrs. Rosa L. Parks has played in the history of the state of Michigan and the nation, the legislature declares that the first Monday following February 4 of each year shall be known as "Mrs. Rosa L. Parks day".
(2) The legislature encourages individuals, educational institutions, and social, community, religious, labor, and business organizations to pause on Mrs. Rosa L. Parks day and reflect upon the significance of Mrs. Rosa L. Parks's love and important contributions to the history of the state of Michigan and to the history of this great nation.  MCL435.111
Rosa Parks was 92 years old when she died in her Detroit home on October 24, 2005. The front seats of city buses in Detroit and Montgomery were adorned with black ribbons in the days preceding her funeral. Fifty thousand people visited her casket as it rested for two days in the Rotunda of the United States Capitol, the first woman to receive this honor. A seven-hour funeral service was held for her at the Greater Grace Temple Church in Detroit, followed by a procession in which thousands of people came to celebrate one of the bravest and most influential figures of the 20th century.
Rosa Parks is buried in Detroit's Woodlawn cemetery.
President Obama sitting in the Montgomery, Alabama bus at Dearborn Village where it is now displayed.
Today, we celebrate her legacy as a courageous leader and inspiring civil and human rights activist.
For more information visit Biography.com's Rosa Parks Bio and video
Jeanne Theoharis, The Rebellious Life of Mrs. Rosa Parks, Beacon Press, 2013.
Rosa Parks : my story / by Rosa Parks, with Jim Haskins. New York : Dial Books, c1992.
Todd Spangler, "Rosa Parks papers give insight into the civil rights icon", Detroit Free Press, February 3, 2015.