When:
2019-10-14T00:00:00-04:00
2019-10-15T00:00:00-04:00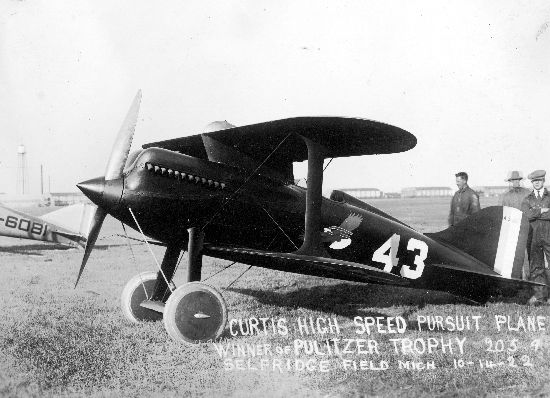 Air races were an extremely popular event in the early days of aviation. An estimated 200,000 spectators watched the opening race at the National Air Races, held at Selfridge Field (now, Selfridge Air National Guard Base) near Mount Clemens, Michigan from October. 8-14, 1922.
On October 14, Lieutenant Lester James Maitland reputedly became the first U.S. pilot to fly faster than 200 mph (320 kmh) and later received a letter of congratulations from Orville Wright.
The Pulitzer Trophy Race was Event No. 5 on the afternoon of Saturday, 14 October. It was a "Free-for-All Race for High-Speed Airplanes". The course consisted of five laps around an approximate 50 kilometer course, starting at Selfridge Field, then south to Gaulkler Point on Lake St. Clair. From there, the course was eastward for ten miles, keeping to the right of a moored observation balloon. The airplanes would then circle an anchored steamship, Dubuque, and return to Selfridge Field.
Lieutenant Maughan finished the race in first place with an average speed of 205.386 miles per hour (330.172 kilometers per hour). In addition to the Pulitzer Trophy, the first place finisher was awarded a $1,200.00 prize. Second place was taken by another Army pilot, Lieutenant Lester James Maitland, also flying a Curtiss R-6, A.S. 68563.