When:
2018-08-13T00:00:00-04:00
2018-08-14T00:00:00-04:00
Saturday morning, the United States women's eight rowing team featuring former Michigan State rower Emily Regan took home gold for the third straight Olympics. One of the most dominant American national teams, the women's eight has won 11 straight golds in the Olympics or world competitions.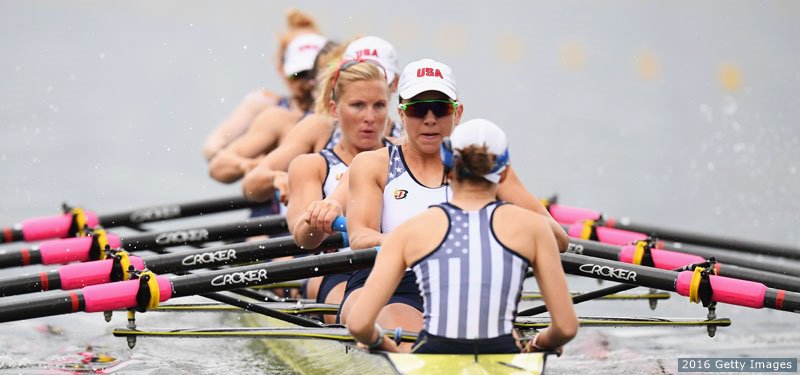 But Regan, 28, is an Olympics rookie who began her rowing career at Michigan State in 2006 as a walk-on. By 2008, she was a Big Ten champion for the Spartans' varsity eight team that also too sixth in the NCAA Championship Regatta. She went on to win the next two Big Ten titles and finish her career as the most decorated rower in Michigan State history.
Since finishing her college career as a first-team All-American and the Big Ten Athlete of the Year, Regan has been part of the Unites States rowing program. She raced for the women's eight team that won gold and set a world record in 2013 at the World Cup and again for the team won gold at the World Championships in 2015.
In all, Regan has now won nine international medals, but none of the others compare to gold at the Olympics.
Every summer we have seen Emily get a little bit closer to her goal," noted Michigan State head coach Matt Weise. "This is the pinnacle, that goal that she set when she first left school to join the residency program. There's countless hours and sacrifices that go into putting oneself into position to make an Olympic team, and to see that everything she has put into it has led her to her dream is just amazing. We could not possibly be prouder of what she has accomplished, and we're excited to have our first-ever representative of Michigan State among the Olympic rowers. She is truly deserving and a fantastic representative of our University and our rowing program.
"I'm not sure I have the right words to express the depth of my gratitude for Matt and the rowing program at Michigan State," noted MSU's newest Olympian. "I was always an athlete, but I only learned to row once I got to college – and I know that this opportunity wouldn't exist without Michigan State University.
"I first had the dream of competing in the Olympics when I was eight years old," continued the Buffalo, NY native. "I watched the 1996 Olympics and fell in love with the competition and the spirit of everything. For this dream to become a reality 20 years later is so special. I went to London to watch my teammates compete four years ago, and I am so excited to have the opportunity to compete with them this time around."
Ex-Michigan rower Amanda Elmore was also a member of the rowing team and the coxswain Katelin Snyder calls Detroit her home.
For the full article, see Jeremy Warnemuende, "Former Spartan Emily Regan takes home gold in women's rowing",  SpartanTailGate, August 13, 2016.
For another see "Regan Off to Rio", MSU Women's Crew Website.