Dec
3
Fri
1896 : First Rural Free Mail Delivery in State of Michigan Offered in Climax, Michigan
POST MARK COLLECTORS CLUB – POST OFFICE PHOTOGRAPH COLLECTION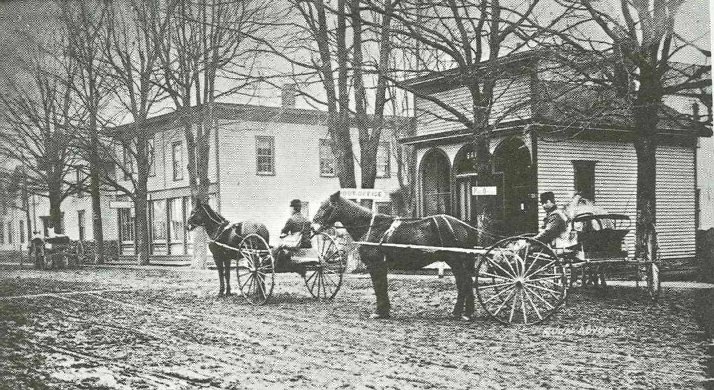 Post Office: Climax, MI 49034 (Kalamazoo County)
Date of Photo: circa 1896
Contributor: Paul E. Petosky, Postmarks from the Past
The first Rural Free Delivery mail service in Michigan was started in Climax in December, 1896. Two postmen, Lewis Clark and Willis Lawrence, Judge Eldred's great-grandson, set out on their routes, one by horse and buggy and the other on a bicycle.  The first RFD routes were around 25-30 miles long, and were based upon what a man with a horse and buggy could travel on unpaved rural country roads during a workday back then. The pay was only $45 a month, and the carrier had to provide his own horse, buggy, feed and water.
The Eckford post office southwest of Albion had the distinction of having the first rural routes in Calhoun County, and the second in the state of Michigan. The service was instituted on July 5, 1899 on an experimental basis that became permanent, and served as a model and inspiration for RFD in other post offices, including Albion.
Sources :
Michigan: Dates That First Rural Routes Were Established at Post Offices, through 1904
Climax Local History courtesy of the Kalamazoo Public Library
Historical Society of Michigan
1929 : Ford Motor Company Raises Pay to $7/Day
Despite the collapse of the U.S. stock market, the Ford Motor Company raised the pay of its employees from $5 to $7 a day on this day.
Source : Detroit Historical Society.
2003: Governor Granholm Signs Bill Recognizing Cesar Chavez Day
After signing a bill into law today that creates Cesar Chavez Day in Michigan, Gov. Jennifer Granholm said "it takes courage" to stand up and say that people should not be discriminated against.  Courage was a word she used earlier in the morning to describe Chavez, the well-known Hispanic labor rights leader.
The governor was at the Cristo Rey Community Center in Lansing this morning to sign SB 352, sponsored by Sen. Buzz Thomas (D-Detroit), a bill that establishes March 31 as Cesar Chavez Day.  The bill does not create a state holiday.  The bill encourages folks to remember Chavez for his fight for reasonable wages, decent housing and the outlawing of child labor.
"Cesar Chavez is not only a hero to the Hispanic community but to all people who labor and dream for peace, social justice, and dignity," Thomas said.  "This legislation is long overdue.  Cesar E. Chavez's legacy has touched us all, and this fitting recognition will continue to inform future generations of his accomplishments."
To speed the bill's passage through the Legislature, days remembering the great work of Ford Motor Company Henry Ford (July 30) and former President Gerald R. Ford (July 14) were added to the bill during its movement through the legislative process.  Thomas said the addition of a day for the former president was somewhat of a coincidence in that his grandfather played football at the University of Michigan with Gerald R. Ford.
House Minority Leader Dianne Byrum (D-Onondaga), Rep. Michael Murphy (D-Lansing) and Sen. Valde Garcia (R-Howell) joined Thomas at the bill signing
Source: MIRS Capitol Capsule, Wed., December 3, 2003.   Note:  MIRS News is available to the MSU Community and other subscribers.