When:
2022-08-09T00:00:00-04:00
2022-08-10T00:00:00-04:00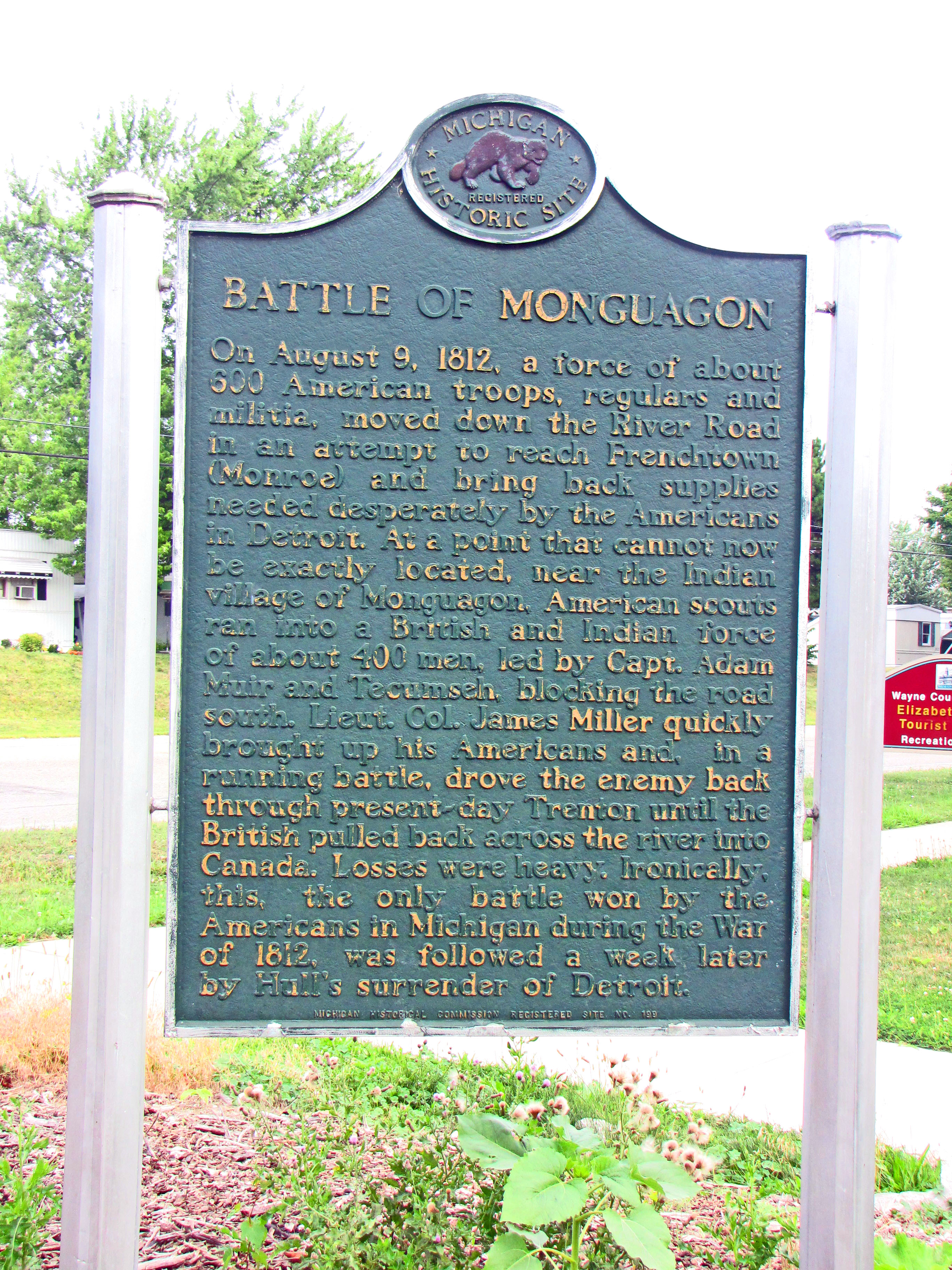 On August 9, 1812, Lieut. Col. James Miller and a force of about 600 American regulars and militia moved down Hull's Trace in an attempt to bring desperately needed supplies from Frenchtown (Monroe) to Detroit. A similar effort had failed at Brownstown on August 5.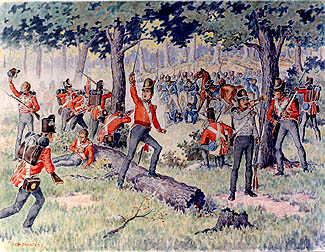 The Battle of Monguagon from the British point of view, displayed in the Windsor Public Library.
Near the Wyandot village of Monguagon, American scouts ran into a British and Indian force of about 400 men led by Capt. Adam Muir and Tecumseh. In the heavy fighting that followed, the Americans drove the British back through present-day Trenton and across the Detroit River, while Native forces withdrew into nearby woods. Despite this tactical victory, Miller returned empty-handed to Detroit, which American General William Hull surrendered to the British a week later.
The Michigan Wyandot who fought at Monguagon were neutral at the beginning of the War of 1812. In the years leading up to the war, their villages at Monguagon and Brownstown had not joined the loose coalition led by the Shawnee brothers Tecumseh and Tenskwatawa, the Prophet, in its opposition to the treaties imposed on Natives by the United States. But in early August 1812, Tecumseh and Roundhead, his leading Wyandot supported, convinced the Michigan Wyandot and their head chief, Walk-in-the-Water, to join them and the British. Although the Anglo-Native alliance was repulsed at Monguagon, the battle played a significant role in the isolation and surrender of Detroit.
Sources:
Dan Wilkins, "The Battle of Monguagon Part One: We Are Going to Meet the Enemy, and Beat Them!", Dan Wilkins War of 1812 Blog, April 29, 2015
Dan Wilkins, "The Battle of Monguagon or Maguaga Part Two"
Dan Wilkins War of 1812 Blog, May 13, 2015.
Benson John Lossing, The Pictorial Field-Book of the War of 1812
Michigan Historic Marker : Registered Site S0199 Erected 1962 Location: Slocum and West Jefferson, Trenton, Wayne County