When:
2023-01-23T00:00:00-05:00
2023-01-24T00:00:00-05:00
Remember the River Raisin? If you're talking about the almost 200-year-ago battle between Americans and a combined force of British soldiers and their Indian allies — and not the polluted river that today flows through downtown Monroe and into Lake Erie — then not many folks do. Fought in January 1813 in and around the settlement then known as Frenchtown, it remains the bloodiest battle ever waged on Michigan soil. Of the 934 Americans engaged in the fighting, all but 33 were either killed or forced to lay down their muskets.
What made the Battle of River Raisin unforgettable, at least in its time, was the wholesale massacre of scores of prisoners — most of them Kentucky militiamen — who were too seriously wounded to be moved from Frenchtown. Despite British assurances to the surrendering Americans that these men would not be harmed, the Indians had other thoughts. Once the British left on the following day, the captives were stripped, tomahawked, and in some cases, burned alive in their beds as buildings were put to the torch. There were other brutal acts too gruesome to tell here. The few who were unharmed were ransomed off in Detroit. Some were never seen again.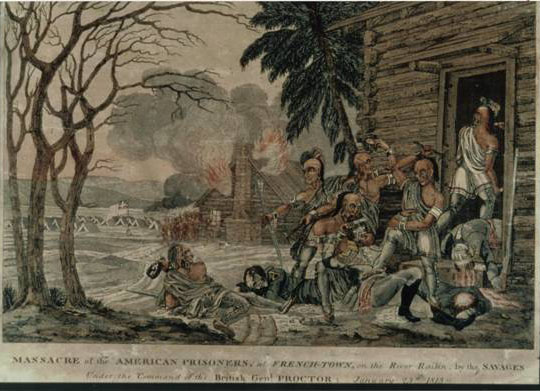 The Niles Weekly Register called it "the most horrid assassination and cold-blooded butchery ever committed, or suffered to be done, by civilized man." The atrocities caused avenging Americans throughout the Old Northwest Territory to rally to the cry "Remember the Raisin!" as they defeated the British and killed Chief Tecumseh at the Battle of the Thames nine months later.
The British Press had a different view.
A View of Winchester in North America. Dedicated to Mr. President Mad I Son! (London, 1813).  Colored, copperplate engraving.  Graphics Division.
Britons rejoiced in the American defeats of 1812-1813.  A British cartoonist drew on a newspaper account of the battle of the River Raisin to ridicule the capture of General Winchester by his Native American opponents.  He was turned over to Colonel Henry Procter (ca. 1763-1822) and sent to Québec as a prisoner of war.  The palm tree is an artistic convention identifying the setting as America.
Sources :
Remember the Raisin,  American Battlefield Trust.
Richard Bak, "River Raisin's Bloody Banks", Hour Detroit, June 2009.
Historical Society of Michigan
Courtesy of the Monroe Public Library