When:
2018-05-13T00:00:00-04:00
2018-05-14T00:00:00-04:00
Saints' Rest (1856—1876)

Saints' Rest, c. 1857, with College Hall in the right background.
Note the tree stumps remaining to be dug out.
1857 Photograph of Saint's Rest Dormitory, showing stumps waiting to be dug out.
On Wednesday, May 13, 1857 the Agricultural College of the State of Michigan was dedicated with proper ceremony, and on the next morning, 63 young men filed from their dormitory, Saints Rest, and reported for classes in College Hall. During that era, students were expected to combine 15 hours a week in class with 15 to 20 hours a week of manual labor, which often consisted of clearing land and planting fields. Students were paid 5 cents an hour at first; in 1874 the rated went up to 7 and a half cents per hour; followed by 10 cents per hour in 1875. The scientific agriculture program would remain in place until 1896. The school also featured a unique calendar during this period, featuring three terms running from the final week of February until late November. This calendar would remain intact as well until 1896 when the school switched over to the more traditional September through June calendar.
The Legislature passed legislation creating the Michigan Agricultural College in 1855, so the university claims 1855 as it starting date..
For more information see Spartan sports encyclopedia : a history of the Michigan State men's athletic program / Jack Seibold. Champaign, IL : SportsPublishing, c2003.
Saints' Rest (1856—1876)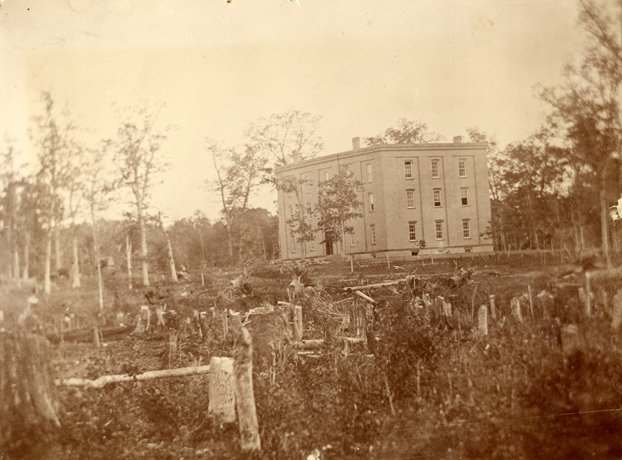 Another early picture of Saints' Rest, courtesy of the MSU Archives.
Note the tree stumps remaining to be dug out.
MAC Opening Day Map still indicates where Native American used to camp.along the Red Cedar River: