When:
2018-05-22T00:00:00-04:00
2018-05-23T00:00:00-04:00
William Ferguson was born on May 22, 1857 to the family of Joseph Ferguson, the first African American graduate of the Detroit Medical College.  He was educated in Detroit schools.  Ferguson had a successful career in printing and real estate and also became a lawyer.
In 1890 he was expelled from Gies' European Hotel Restaurant for refusing to eat in the colored section. He filed a lawsuit and was the successful plaintiff in a landmark civil rights case before the Michigan Supreme Court —  Ferguson v. Gies — when the court ruled that separation by race in public places was illegal. The ruling propelled Ferguson to a prominent position in the African American community, and he subsequently became Michigan's first African American legislator when he was elected to the Michigan House of Representatives in 1893 and again in 1895.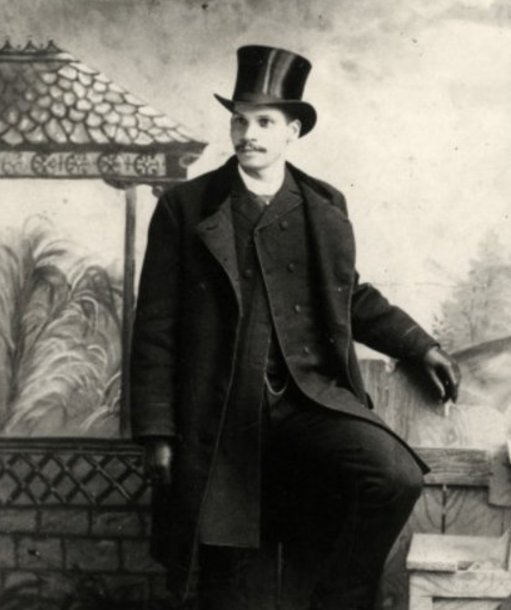 A photo of William Ferguson.
Ferguson died in 1910 and is buried in section 10, Lot 54, of Historic Elmwood Cemetery in Detroit.
A Michigan Historical Marker was placed at Ferguson's former homesite on Alfred Street near the Brewster Wheeler Recreation Center.
Source : Historic Elmwood Cemetery William Ferguson Biography
Thanks to the efforts of the Black Caucus and Joshua Adam Risner, portrait painter, Ferguson's portrait will hang outside the old supreme court room at the capitol, where his case was successfully argued.  The room now houses the Senate Appropriations Committee.
Ferguson was a Republican from Detroit at a time when most African Americans were Republican, thanks to their appreciation of the efforts of Abraham Lincoln and the Republican Party on their behalf.
Source : Nick Minock, "First Portrait of African-American to be placed in Michigan State Capitol building", Newschannel 3, February 23rd 2018.