When:
September 1, 2023
all-day
2023-09-01T00:00:00-04:00
2023-09-02T00:00:00-04:00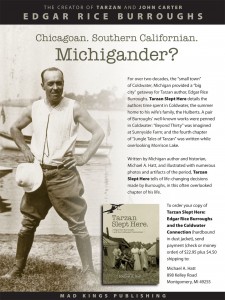 Generations have grown up reading the works of Edgar Rice Burroughs, including his enduring "Tarzan" and "John Carter of Mars" fantasy series. They've pored over the countless movie, TV show and comic book adaptations, but few know about the love-hate relationship the Chicago native had for Michigan.
Michael Hatt, a former postal employee living in Montgomery, Michigan, has written the new book "Tarzan Slept Here: Edgar Rice Burroughs and the Coldwater Connection" available through MelCat or other forms of Interlibrary Loan. It's about the nearly two decades Burroughs spent vacationing with his family in Coldwater.
Two of Burroughs' works pay homage to the Southern Michigan city. In "Beyond Thirty," a dystopian science fiction tale, there is an "aero-sub" named "Coldwater." And the fourth chapter of the "Jungle Tales of Tarzan," a collection of 12 inter-connected short stories, describes a lake setting that sounds a lot like Michigan. Turns out that wasn't a coincidence.
In his boyhood, Burroughs was restless and poorly disciplined. After basically flunking out of the exclusive Phillips Academy in Andover, Mass., he was sent to the Michigan Military Academy in Orchard Lake, where he spent a tumultuous five years. He was often restricted to his living quarters for disciplinary violations. This period has been exquisitely detailed in another Michigan author's book, "Them Were the Days", by Brian Bohnett.
In the book, which took 15 month to write, Hatt details the times that Burroughs and his family visited both Sunnyside Farms, owned by the Hulbert family, and then later a family cottage on Morrison Lake outside of Coldwater. Burroughs married Emma Hulbert in 1900.
Coldwater was his escape for getting out of Chicago.
Tarzan slept here : Edgar Rice Burroughs and the Coldwater connection / written by Michael A. Hatt ; foreward by Brian J. Bohnett.   Holt, Mich. : Mad Kings Pub., 2014.
Order information for Tarzan Slept Here : Edgar Rice Burroughs and the Coldwater Connection
For more information, visit Bill Catanier, "Tarzan and the Great Lakes State : Book recounts author Edgar Rice Burroughs' Michigan connections", Lansing City Pulse, November 19, 2014.
Also see Chuck Carlson, "Author recounts Tarzan creator's affection for Coldwater", Battle Creek Enquirer, April 11, 2014.