When:
2018-01-14T00:00:00-05:00
2018-01-15T00:00:00-05:00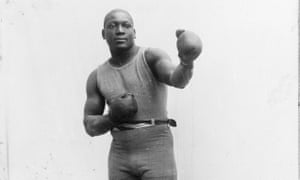 Jack Johnson, the flamboyant boxer who became the first African-American heavyweight champion at the height of the Jim Crow era in 1908, was granted a rare posthumous pardon by President Donald Trump on Thursday.  Trump was joined by Sylvester Stallone and world boxing champ Deontay Wilder in a White House photo op.
But the story of his arrest for violating the Mann Act — a racially motivated charge that forbid the transport of a woman across state lines for immoral purposes — runs right through Battle Creek.
Johnson had been arrested and indicted in 1912 due to his relationship with Lucille Cameron, a white woman.
The couple married on Dec. 3, 1912, then left Chicago on a one-way ticket to Toronto, which was a violation of his $35,000 bond. A Chicago Tribune reporter tipped off Chicago police, who alerted Battle Creek authorities.
On Jan. 14, 1913, the famed pugilist was found in a Toronto-bound train and arrested in Battle Creek.
Upon his arrest, Johnson told a reporter from the Battle Creek Enquirer that he was going to Canada to see his former manager about booking a fight in Paris.
"I couldn't afford to let my mother's house go, besides the bond that I have up," he said. "I couldn't afford to turn down the fight offers I have."
According to newspaper reports from the time, Johnson was detained but not imprisoned. Instead, he was permitted to visit a former acquaintance named William Cook, an African-American barber who lived on Central Street.
An article in the Battle Creek Evening News stated, "Johnson's appearance on the street, sleighriding, in company with his wife, stimulated many protests to the police department."
The sleigh ride came courtesy of patrolman John Patterson, Battle Creek's first African-American police officer. Johnson and his wife then stayed the night with Patterson until the federal authorities arrived from Chicago.
Because Cameron refused to cooperate, the case was dropped. But Johnson would be arrested again on similar charges.
Belle Schreiber, an alleged Chicago prostitute who had an on-and-off-again relationship with Johnson between 1909 and 1910, was convinced by authorities to testify against the fighter for violation of the Mann Act.
In June 1913, Johnson was convicted and sentenced to a year and a day in prison and fined $1,000, but was not taken into custody immediately.
He and Cameron then fled separately to Canada, and the pair traveled between Mexico and Europe for the next seven years.
He returned to the United States in 1920 and was sent to the United States Penitentiary, Leavenworth, in Kansas and released in 1921.
Johnson died in an automobile crash in 1946.
Another Possible Link to Michigan:
When Johnson became rich enough to afford automobiles, he raced them down public streets, and when stopped by white policemen, whipped out some bills from his wallet and told them to "keep the change." According to a story which has never been verified, Henry Ford gave Johnson a new car every year, assuming that when he was pulled over for speeding, a photo of a grinning Johnson beside his shiny new Ford would appear in newspapers across the country.
Sources:
Bill Ballenger, "Trump does the Right Thing: He Pardons Ex-Heavyweight Champion Jack Johnson After No Other President Would", The Ballenger Report, May 24, 2018.
Allen Barra, "If Trump pardons Jack Johnson it won't be for his contribution to black America", The Guardian, May 15, 2018.