When:
2018-05-24T00:00:00-04:00
2018-05-25T00:00:00-04:00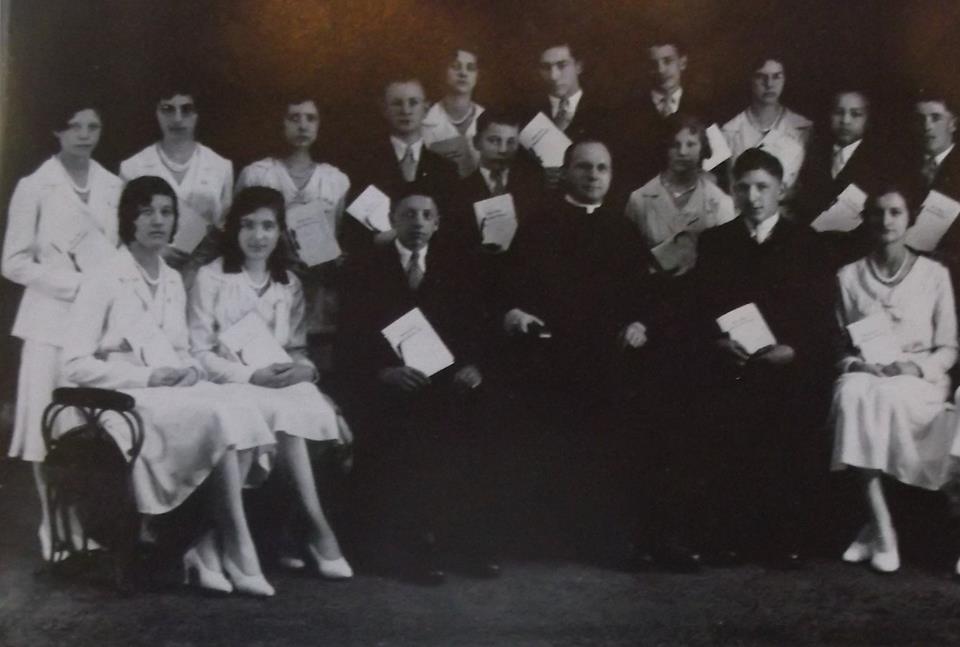 Coleman A. Young at age 11. He's believed to be the only black boy or girl enrolled at St. Mary's Catholic School in Greektown at the time this picture was taken in 1929. Young is shown standing on the far right. The @CityofDetroit's first black mayor was born on May 24, 1918.
Young was born in Tuscaloosa, Alabama, to William Coleman Young, a dry cleaner, and Ida Reese Jones. His family moved in 1923 to Detroit, where he graduated from Eastern High School in 1935.  A member of United Auto Workers, Young worked for Ford Motor Company and later the United States Post Office Department.
During World War II, Young served in the 477th Medium-Bomber Group (Tuskegee Airmen) of the United States Army Air Forces as a second lieutenant, bombardier, and navigator.  As a lieutenant in the 477th, he played a role in the Freeman Field Mutiny in which 162 African-American officers were arrested for resisting segregation at a base near Seymour, Indiana in 1945
In the 1940s, Young was labelled a fellow traveler of the Communist Party by belonging to groups whose members also belonged to the Party, and was accused of being a former member. Young's involvement in radical organizations including, the Progressive Party, the United Auto Workers and the National Negro Labor Council made him a target of anti-Communist investigators including the FBI and HUAC. He protested segregation in the Army and racial discrimination in the UAW. In 1948, Young supported Progressive Party presidential candidate Henry A. Wallace.
In 1952, Young stunned observers when he appeared before the McCarthy era House Committee on Un-American Activities (HUAC) and defied the congressmen with sarcastic retorts and repeatedly refused to answer whether or not he was a member of the Communist Party. The encounter came at a highly publicized formal hearing in Detroit. Young's performance made him a hero in Detroit's growing black community. On HUAC's charge that he seemed reluctant to fight communism, Coleman said: "I am not here to fight in any un-American activities, because I consider the denial of the right to vote to large numbers of people all over the South un-American." On the HUAC congressman from Georgia: "I happen to know, in Georgia, Negro people are prevented from voting by virtue of terror, intimidation and lynchings. It is my contention you would not be in Congress today if it were not for the legal restrictions on voting on the part of my people."  On the HUAC committee: "Congressman, neither me or none of my friends were at this plant the other day brandishing a rope in the face of John Cherveny, a young union organizer and factory worker who was threatened with repeated violence after members of the HUAC alleged that he might be a communist, I can assure you I have had no part in the hanging or bombing of Negroes in the South. I have not been responsible for firing a person from his job for what I think are his beliefs, or what somebody thinks he believes in, and things of that sort. That is the hysteria that has been swept up by this committee."
Young built his political base on the East Side in the 1940s and 1950s. In 1960, he was elected as a delegate to help draft a new state constitution for Michigan. In 1964, he won election to the Michigan State Senate, where his most significant legislation was a law requiring arbitration in disputes between public-sector unions and municipalities. During his senate career, he also pointed out inequities in Michigan state funding, "spending $20 million on rural bus service and a fat zero for the same thing in Detroit."
Coleman Young served as mayor of Detroit, Michigan from 1974 to 1994. Young was the first African-American mayor of Detroit.
Young had emerged from the far-left element in Detroit, and moderated somewhat after his election as mayor. He called an ideological truce and gained widespread support from the city's business leaders   The new mayor was energetic in the construction of the Joe Louis Arena, and upgrading the city's mass transit system. He assisted General Motors in building its new "Poletown" plant at the site of the former Dodge Main plant, which involved evicting many long-time residents. It has been argued that he pulled money out of the neighborhoods to rehabilitate the downtown business district, because "there were no other options."
Young's tenure as mayor has been blamed in part for the city's ills, especially the exodus of middle-class taxpayers to the suburbs, the emergence of powerful drug-dealing gangs, and the rising crime rate. Political scientist James Q. Wilson wrote that, "In Detroit, Mayor Coleman Young rejected the integrationist goal in favor of a flamboyant, black-power style that won him loyal followers, but he left the city a fiscal and social wreck."
Source: