When:
September 4, 2023
all-day
2023-09-04T00:00:00-04:00
2023-09-05T00:00:00-04:00
Soldiers from Michigan, whose regiment was nicknamed the 'Polar Bears,' arrive in Arctic Russia in the Murmansk/Archangel area as part of the Allied intervention in the Russian Civil War to assist the White Army and fight against the Red Army in the surrounding region during the period of September 1918 through July 1919.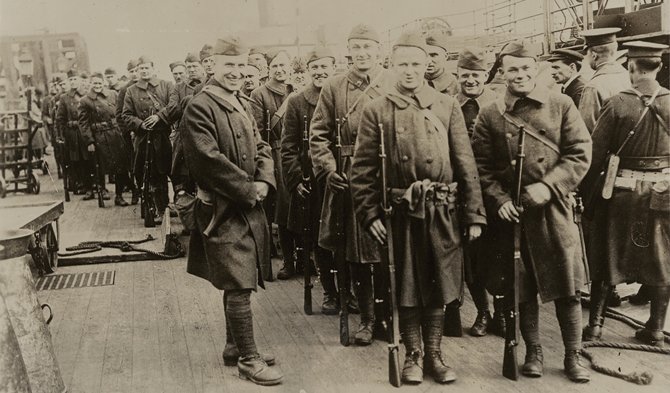 Another picture of the Polar Bears.
For more information, see :
Patricia Zacharias, "Detroit's Polar Bears and their confusing war", Detroit News, July 22, 2000.
Voices of a Never Ending Dawn : The Heroic Story of the American WWI Polar Bear Force in Arctic Russia. description and 5-Minute Preview of Documentary
339th Infantry Regiment In Northern Russia 1918-1919 clip from YouTube.
"Detroit's own" Polar Bears : the American North Russian Expeditionary Forces, 1918-1919 / Stanley J. Bozich and Jon R. Bozich. Frankenmuth, Mich., U.S.A. : Polar Bear Pub. Co., 1985.
A Michigan Polar Bear Confronts the Bolsheviks : A War Memoir by Godfrey J. Anderson. This rare volume contains the graphic story of a young Michigan soldier's experiences during President Woodrow Wilson's ill-fated 1918 military expedition against the Bolsheviks in the frozen reaches of northern Russia — a little-remembered event in U.S. history. As a member of the U.S. "Polar Bears" medical corps, Godfrey Anderson (1895–1981) tells of his travels by ship and train to Archangel, Russia, where a 5,000-man American contingent joined forces with French, British, Canadian, and local Cossack fighters to hold back the Red Army. Anderson's unit set up field hospitals in the vast Arctic wilderness, endured the bitter cold of winter and the ravages of the Spanish flu, rubbed shoulders with Russian villagers, rescued scores of wounded from the advancing Bolsheviks in a harrowing nighttime retreat by sleigh — and more.
When hell froze over / by E.M. Halliday. New York : ibooks ; distributed by Simon & Schuster, c2000. On November 11, 1918, World War I officially ended. But for the men of the ill-starred American Expeditionary Force to North Russia, the fighting had only begun. Plagued by meager supplies, poor leadership, and the tack of a clear-cut objective, this small but valiant American contingent fought impossible odds, scoring several stunning victories against the Bolsheviks before superior numbers and the bone-breaking arctic winter that had defeated Napoleon forced them to withdraw. Now, in this clear, forthright account, E.M. Halliday re-creates one of the most obscure but important of America's foreign interventions: an epic of confusion, endurance, failure — and gallantry — that history almost forgot and the Russians never forgave. Only today, more than seventy years after the Allied occupation of Archangel, have American-Soviet relations begun to thaw.
American intervention in northern Russia, 1918-1919 : the polar bear expedition : a guide to the resources in the Michigan Historical Collections / compiled by Leonard A. Coombs. Ann Arbor, [Mich.] : Michigan Historical Collections, Bentley Historical Library, University of Michigan, 1988.
Polar Bear Expedition Digital Resources at the Bentley Historical Library at the University of Michigan.
Michigan Historical Calendar, courtesy of the Clarke Historical Library at Central Michigan University.