When:
2022-05-30T00:00:00-04:00
2022-05-31T00:00:00-04:00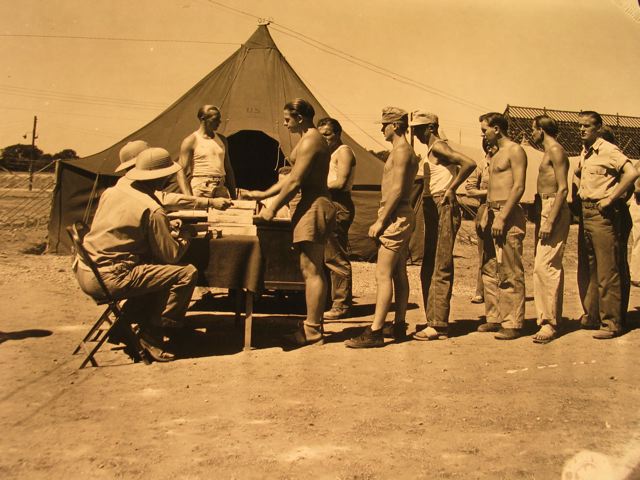 On May 30, 1944, the U.S. government brought 200 German prisoners to Camp Owosso and set up on an unused dirt racetrack at the corner of M-21 and Carland Road. Camp Owosso was one of 25 prisoner of war camps created in Michigan during World War II.
The public was not allowed to visit Camp Owosso, and a sign on M-21 alerted motorists that stopping or parking was prohibited. According to the Shiawassee County Historical Society, the Germans apparently enjoyed being prisoners away from the danger of the battlefield.
As they were transported to and from the camp for work in the fields, they would sing and wave happily to passers-by. The camp, however, received national attention when two prisoners walked away from a canning factory and met two women who were waiting in a car. A massive manhunt ensued and the following day all four were arrested near Colby Lake.
There were 32 POW Camps in Michigan. While the existence of the camps was not kept secret, it was not publicized for security reasons.
List of Camps:
Camp Allegan
Camp AuTrain
Barryton, Mecosta County, MI
Benton Harbor, Berrien County, MI
Blissfield, Lenawee County, MI
Caro, Tuscola County, MI
Coloma, Berrien County, MI
Croswell, Sanilac County, MI
Fort Custer, Galesburg, MI
Dundee, Monroe County, MI
Camp Evelyn – Alger County, MI
Freeland, Saginaw County, MI
Fremont, Newaygo County, MI
Camp Germfask – Germfask, MI
Grant, Newaygo County, MI
Grosse Ile Township, Wayne County, MI
Hart, Oceana County, MI
Camp Lake Odessa, Ionia County, MI
Mattawan, Van Buren County, MI
Mass, Ontonagon County, MI
Milan (USFR), Monroe and Washtenaw Counties, MI
Odessa Lakes, Tuscola County, MI
Camp Owosso – Shiawassee County
Camp Pori – Upper Peninsula
Camp Raco – Upper Peninsula near Sault Ste. Marie
Romulus Army Air Field, Wayne County, MI
Shelby, Oceana County, MI
Camp Sidnaw – Sidnaw, MI
Sparta, Kent County, MI
Wayne (Fort), Detroit, Wayne County, MI
Waterloo, Jackson County, MI
Wetmore, Alger County, MI
Newspaper clipping of German Prisoners of War loading up to pick grapes near Benton Harbor.
Sources:
Michigan Every Day
For more information see Owosso Prisoner of War Camp, courtesy of the Shiawassee District Library.
Steve Ostrander, "German POW Camps in Michigan", Michiganology.
Owosso Speedway and 'Prisoner of War' Camp History
The Lonely Ones, Time, January 22, 1945. Tells the story of two local Owosso women who met German prisoners at a canning factory and ran off with them for a night, only to end up being prosecuted for treason and sentenced to federal prison.
Michael Peterson, "Woman's hidden history recalled by family", Argus Press, January 19, 2010.
Kathleen Lavey, "Owosso 1944: 2 teens, 2 German POWs and a jailbreak", Lansing State Journal, March 17, 2016.
Cottonwood Summer. Gary Slaughter. Nashville, TN : Fletcher House, c2004. When the army builds a German prisoner of war camp on the outskirts of a small Michigan town, citizens are outraged. Adding to the angst, two women assist a pair of POWs to escape — and are tried for treason. History, fiction, and humor blend into a heart-warming story of life on the 1944 home front. Note : book is available via ILL.
Approximately 5000 German prisoners of war were sent to Fort Custer. See Ryan Shek, "Portage couple decorates German prisoner of war graves at Fort Custer for 30 years", MLive, June 11, 2015.