When:
2018-06-09T00:00:00-04:00
2018-06-10T00:00:00-04:00
Standing at the entrance way to Michigan State's athletic establishment is "The Spartan," a huge statue which symbolizes the university's athletic teams.
Sparty was born in the mind of Ralph Young, Michigan State College's athletic director, in 1932, while visiting the University of Southern California. There, he spotted a huge bronze Trojan on the U.S.C. campus.
When Young got back to the college, he was hyped up about Sparty. You heard about it in art, athletic, administrative and other offices. However, design and implementation would take a while longer. In between teaching physics to Army Air Force cadets and carrying a heavy teaching load in the art department, Assistant Art Professor Leonard D. Jungwirth went to work on Sparty. The terra cotta clay figure was cast in three sections and fired in industrial kilns at the Grand Ledge Clay Products Company in Grand Ledge. The hollow cast sections were fused on site, and then concrete cement was poured into the ceramic sections.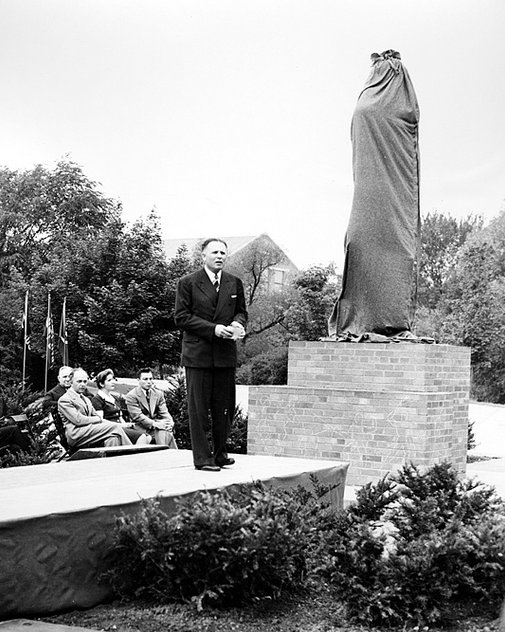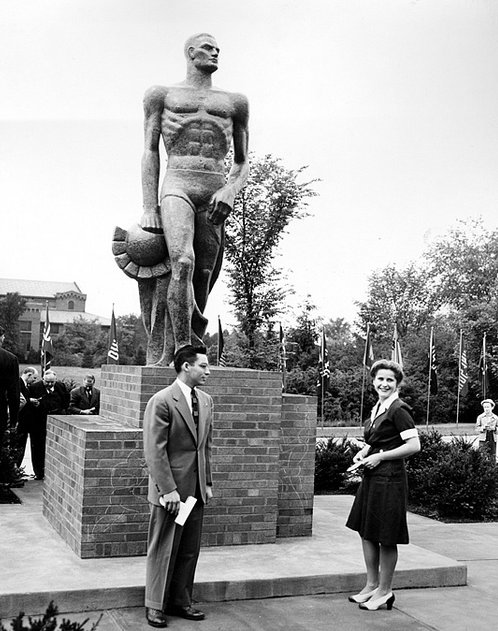 "The Spartan" was dedicated on June 9, 1945. It stands ten feet-six inches, and is mounted on a brick-and-concrete base five feet-four inches high. The statue weighs three tons and is one of the largest free standing ceramic figures in the world.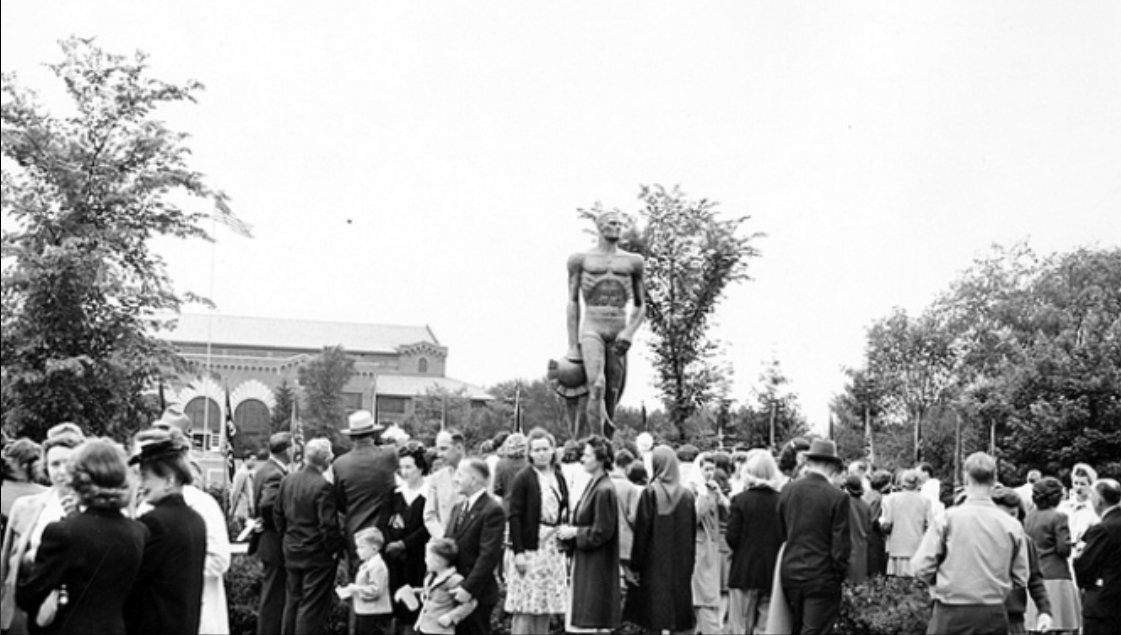 Figures representing the 12 sports then included in the varsity program are incised on the base of the statue.
Popularly known as "Sparty," the statue is one of the favorite photo subjects of visitors to the campus.
Unfortunately, Michigan's winters were hard on the terra cotta Sparty. The original sculpture was relocated to protect it from the elements and now rests inside the atrium of the Spartan Stadium tower.
A new bronze Sparty was made and dedicated on August 25, 2005. The new Sparty was made directly from a mold taken from the original Sparty.
* The Spartan statue, commonly known as "Sparty," was cast in bronze at the Artworks Foundry in Berkeley, Calif.
* Height : 9 feet, 7 inches
* Weight : 1,500 pounds
* Girth at shoulders : 7 feet, 7 inches
* Girth at waist : 4 feet, 9 inches
* An official dedication for the new Sparty was held Oct. 8, 2005, as part of MSU's Sesquicentennial celebration
* The original Spartan statue was made of terra cotta; stood 9 feet, 7 inches tall; weighed 6,600 pounds
Source : Vickki Dozier, "From the Archives: Sparty the statue", Lansing State Journal, June 11, 2015.