When:
2018-07-02T00:00:00-04:00
2018-07-03T00:00:00-04:00
The Daisy Air Rifle was first manufactured and sold as an incentive to help market windmills. According to Michigan Every Day, when Clarence Hamilton showed the owner of the Plymouth Iron Windmill Factory his metal air rifle, the owner exclaimed "Boy, that's a daisy!"
Eventually, the company would abandon the manufacture of windmills altogether to focus on the air rifle.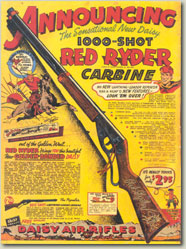 The company's most iconic gun, the Model 40 Red Ryder Western Carbine, debuted in the 1940s and was the obsession of Little Ralphie in A Christmas Story.
Plymouth would remain the Air Gun Capitol of the World until 1958 when the company relocated to Arkansas.
More about a Christmas Story
In 1983, the story of young Ralphie Parker hit the movie screens. Ralphie was a fictional character from the mind of Jean Shepherd, whose fondest Christmas dream was of a "…two-hundred shot Red Ryder range model air rifle with a compass in the stock and this thing that tells time."
The fact that the gun never existed (the gun described was actually a combination of the Red Ryder and an earlier gun, the Buck Jones Special) did not deter the movie production company. In spite of repeated warnings that "…you'll shoot your eye out!", in the end Ralphie got his gun.
A Christmas Story was an instant box office hit and is now a cult classic that can be seen each year on television from the day following Thanksgiving through Christmas.
Sources :
Michigan Every Day.
Airgun Depot History of the Daisy Red Ryder BB Gun
DaisyKing.Com History of the Daisy
It's a Daisy / Cass S. Hough : available through Interlibrary Loan