When:
2018-06-17T00:00:00-04:00
2018-06-18T00:00:00-04:00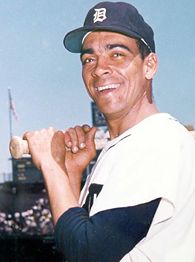 A decade before hometown hero Willie Horton would help the Detroit Tigers win a world championship, Ozzie Virgil took the field at Tiger Stadium on June 17, 1958, as the ballclub's first player of color. Before a crowd of 30,000, he played third base, batted second and went 5-for-5 against the Washington Senators as the Tigers pounded the Nats 9-2.
Osvaldo Jose Virgil had actually worn the Old English D for the first time earlier that month, but in a road game.
Traded to the Tigers by the San Francisco Giants, Dominican Republican native Virgil also was Detroit's first Latino player, according to team spokesman Ron Colangelo. He wore uniform Nos. 8 and 22 in his years with the Tigers.
Source : Zlati Meyer, "This Week in Michigan History", Detroit Free Press, June 12, 2011, A.14.