When:
2021-11-06T00:00:00-04:00
2021-11-07T00:00:00-04:00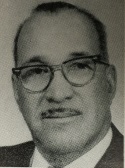 In 1962, voters in Wayne County's 6th House District elected (November 6, 1962; Sworn in January 9, 1963) a Democrat calling himself Daniel West as one of three representatives for the district in Detroit. He had a sterling resume, claiming an undergraduate degree from Swarthmore College and law degree from Yale University. He was married with two children and a retired attorney.
Mr. West, according to his official biography in the 1963-64 Michigan Manual, had held various local offices and was at the time of his election a retail hardware dealer.
In 1964, he easily won re-election.
Then his scheme unraveled. According to The Associated Press (sadly, one of the few portions of the Gongwer News Service archives that is missing is from late 1964 and early 1965), a detective investigating a complaint against Mr. West discovered his fingerprints matched those of a felon who served time in three prisons under different names for burglary, larceny and forgery.
"Daniel West," in fact, was a New York attorney who died in 1961. Whoever it was that won those two elections to the Michigan House stole Mr. West's identity.
Once "Mr. West" was revealed to be a fraud, the House, in the only known time to have taken such action, refused to seat him when the Legislature convened for the start of the 1965-66 term, and the seat was declared vacant.
The man claiming to be Mr. West was indicted on 117 counts of income tax fraud in connection with a tax accounting service in which he allegedly had made false returns to unjustified refunds for his clients.
A warrant for the arrest of "Mr. West" was issued in July 1965, but he fled and did not show up in U.S. District Court. There were a couple of "Unsolved Mysteries"-esque sightings of the man who claimed to be Mr. West, both in Canada, once in 1965 and again in 1975. The latter reported sighting occurred in Windsor, Ontario, where a man who worked on Mr. West's 1964 campaign insisted he had spotted him at a restaurant, according to the AP. The man reported that when "Mr. West" saw him staring at him, he got up and left without ordering any food.
Otherwise, "Mr. West" successfully evaded authorities. His exact age is unknown, but he presumably would be about 100 years old if still alive today.
Michigan Legislature Biography
Zachary Gorchow, "The Forgotten Scandal: 'Daniel West,' The Imposter Legislator, Gongwer Blog, August 25, 2015.