When:
2018-08-21T00:00:00-04:00
2018-08-22T00:00:00-04:00
The Capri Drive-in in Coldwater is not only an emblem of a fading Michigan icon (the state once had 100 drive-ins) but a major surviving attraction along U.S. 12, which began as the Great Saulk Trail in American Indian days and once was the main road between Detroit and Chicago. It opened on this day in 1964 and has remained in the Magocs family ever since.
The 1000 Car, single screen Drive-In opened on August 21st, 1964 by owner-operators John and Mary Magocs.
A contest was held at the Drive-In shortly after it opens to decide on a name… the winner received a brand new sewing machine. The winning name was The Capri. That name was submitted by… Mary Magocs (and yes, she kept the sewing machine 🙂
Admission in 1964 was $1.00 and a cheeseburger was 45¢. The snack bar at the time was leased to Auto City Candy Company of Detroit. Operating a Drive-In for the Magocs was a family affair. John and Mary, John Jr. and Tom, spent many a night making sure the show went off each night.
From 1964 through 1977, The Capri served the residents of Branch and Calhoun counties. The 50's, 60's and 70's were boom times for Drive-in's. In Michigan, there were 87 open Drive-In's in 1954, growing to a peak of 110 in 1958. The number of open Drive-In's remained constant over the next 20 years, with 103 Drive-In's still open in Michigan in 1977.
In 1977, the operation of the Capri Drive-In was leased to William Clarke of Coldwater while the Magocs resided in Florida. In 1980, Tom and John Jr. resumed operation of the theatre. Tom and John Jr. were 5 and 9 years old when John and Mary opened the theatre.
After 16 years of learning the ropes, the boys took over. One of their first decisions was to install AM radio transmission of the movie sound. This was cutting edge technology at the time in the Drive-In industry. All but 5 rows of speakers were removed.
In 1982, Susan Magocs (Tom's beautiful wife) assumed operation of the Snack Bar. Between 1964 and 1981 the snack bar had been run separately. For those of you who remember back 20 years, this was a major UPGRADE for the concession stand. The Capri Drive-In's concession now consistently rates as one of the best Drive-In concessions in operation.
In 1986, the Capri became a twin. Screen Two was added on the back side of theatre. Screen One's car capacity was decreased to 550 cars, with Screen Two parking 300 more. It was at this time that 5 remaining rows of speakers were also removed. In 1996, sadly, the original "showman", John Magocs Sr. passed away in his Naples, Florida home.
Concession 1997 through 2000 saw The Capri Drive-In continually increase their technology and film exhibition capabilities. FM radio transmission of the sound, following by FM Stereo brought indoor theater sound quality to the Outdoor show. The Addition of a Red Dye Cye Analog filter (which was replacing Silver Nitrate on new films) allowed the Capri able to show current first run films.
The Coldwater Indoor Cinema opened and many predicted the demise of the Capri Drive-In. But they couldn't have been more wrong. The Capri Drive-In has continued to thrive, with an ever growing and widening audience. Not only do we see regular customers from local counties like Branch and Calhoun, but regular weekly visitors from Kalamazoo, Lansing, Angola, Fort Wayne, Jackson, Defiance, and even semi-regulars from as far away as Detroit, Chicago and Toledo.
During the Summer of 2000, a local Coldwater TV program featured the Coldwater Drive-In. "Historically Speaking" conducted a 20 minute interview with Sue Magocs of The Capri. Sue talked about the Drive-In's past, the present and its future. Classic video footage was found and shown for the show. You can Watch the show in its entirety here.
In the summer of 2001, The Capri Drive-In earned its highest honors, named One of Ten Drive-In's Worth a Detour by both the USA Today and The New York Times. In the article written by Drive-In author and aficionado Don Sanders, the Capri was called "what a drive-in experience should be." The whole text run said "The original family runs the theater, which has great food and the original neon sign. Great FM sound system, too. This family (Tom and Sue Magocs) really knows what a drive-in experience should be. Cool nights! 517-278-5628."
We want you to know what the Drive-In experience should be also. So, please, come on down and take in a great outdoor show at The Capri Drive-In.
Source : Capri website
More drive-in theaters in Michigan courtesy of Pure Michigan (2018):
The Cherry Bowl Drive-In has provided fine films, food and family entertainment since 1954. Complete with playground, volleyball net, vintage movie memorabilia, 50's style putt-putt golf,  home run derby and popcorn popped fresh in their original 1953 popcorn popper, a trip to the Cherry Bowl is like stepping back in time to simpler summer nights.
Put yourself in the backyard of your favorite friend's house, and you'll have an idea of the homey atmosphere of the Sunset Drive-In Theater in Hartford. The screen, put up in 1948, backs up to a canopy of trees and an open sky, creating a quiet zone where the movie and you are all that you can see. With a flat rate of $15 per carload, you can pack as many friends into your vehicle with no extra charge! Plus, their concession stand is full of goodies including fresh buttery popcorn, nachos, hot dogs, hamburgers, pizza, candy, slushies and more.
At the Getty-4, tune in your movie on your car radio to enjoy your movie in stereo sound, or use the nostalgic drive-in speakers! The box office gates open nightly at 7:45, and the first features hit the screen around dusk or 9:00. The drive-in has a large playground and arcade room for all the kids, and a self-serve concession that has all your movie favorites.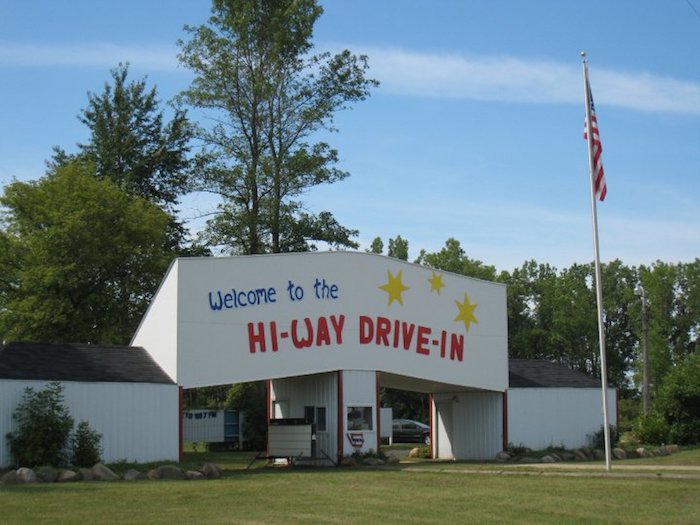 Opened in 1947, Hi-Way Drive-In is Michigan's oldest remaining drive-in movie theater. The box office opens at 7:30 and the movies start at dusk. Sound is available through your FM car radio. If you're near Carsonville on the way to or from your next Michigan camping trip, be sure to pull in and make the Hi-Way Drive-In your rest stop –  Campers are always welcome!
The Ford Drive-In located in Dearborn is America's largest drive-in-theater with 9 screens and parking for 2,500 cars that is open for viewing year round.  In-car heaters are now available for the winter months. Gates open at 8 pm during the summer.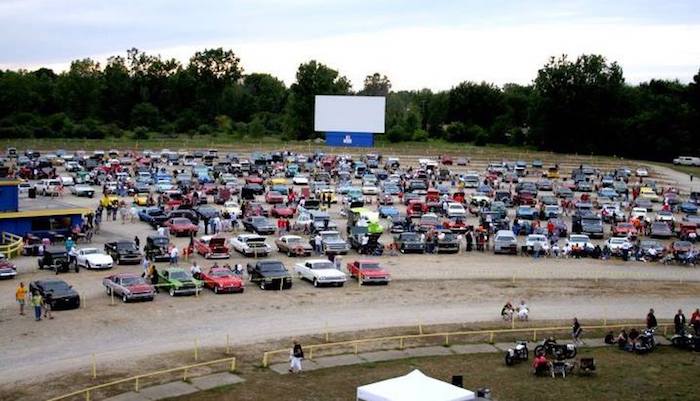 The US 23 Drive-In Theater features double-feature films nightly on three giant screens. This fun drive-in theater, located in Flint, recently went through renovations to make your experience that much more special. Enjoy the new concessions stand and stay for two shows when you have the time!
Built in 1961, the 5 Mile Drive-In can be found in the grand old town of Dowagiac in southwest Michigan. This space is a favorite among locals and has a fun playground for children to burn off their energy before your movie of choice starts. This theater accommodates 500 cars and is open Memorial Day through Labor Day.