When:
2018-10-07T00:00:00-04:00
2018-10-08T00:00:00-04:00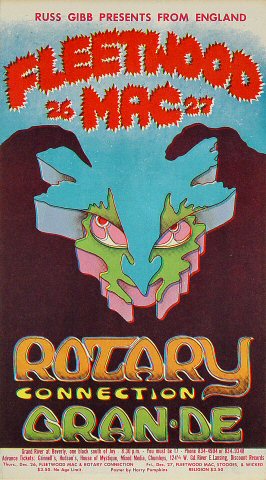 Ask Detroiters of a certain age where they first saw Led Zeppelin, Cream, The Who, Janis Joplin — and just about every other major rock act of the 1960s — and they'll probably tell you, "The Grande Ballroom." They might even have a story or two about how they got to stand two inches from the stage, or even hung out with Eric Clapton after a show. And there would also probably be a nostalgic word or two thrown in about how those were better days for rock 'n' roll—all of which would be true. But none of it would have happened without a Dearborn high school teacher who for six years—the right six years—lit the fuse for Detroit's rock scene and just as quickly walked away.
On the Grande's opening night — October 7, 1966 — $2.50 granted you entrance into Russ Gibb's own slice of San Francisco. A winding staircase led you up to the ballroom, at the back of which was the stage, recessed into an alcove in the wall. Behind the stage, floating blobs of color danced on a projection screen. All around the room were toys — miniature bicycles, bouncy balls, sandboxes — that Russ had bought on a last-minute whim from the toy store down the street. The music was loud, but the crowd was not — only about 160 people showed up that first night, and Russ went home without a dime. But then, the next night, there were 200 people. And the following weekend, there were even more. Within five weeks, the Grande was jammed.
For the full article, see Emily Bingham, "My Son, the Promoter", Found Michigan, April 18, 2013.
Also see Jim McFarlin, "Hallowed Ground", Hour Detroit, September 26, 2016  :  Fifty years ago this October, The Grande Ballroom became Detroit's brick-and-mortar embodiment of the sex, drugs, and rock 'n' roll era