When:
2022-08-18T00:00:00-04:00
2022-08-19T00:00:00-04:00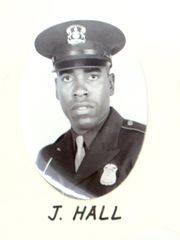 Jack Hall became the first African-American Michigan State Police trooper when he was sworn in on Aug. 18, 1967.
The Benton Township patrolman had tried to enlist before, but the white recruiter in Paw Paw had told him — incorrectly — that his glasses disqualified him. Six years later, at age 26, he reapplied and was accepted because his vision was correctable to 20/20.
Hall was first posted to Flint, though his 25-year career would also take him to Niles, Detroit, Ionia and Lansing and include some State Police recruiting work. He retired as captain in 1992.
He then worked for the state Department of Corrections internal affairs division for a decade.
The current Grand Ledge resident has an associate's degree in criminal justice from Lansing Community College, a bachelor's degree in police administration from Michigan State University and a master's degree in public administration from Western Michigan University.
For the full article, see Zlati Meyer, "This week in Michigan history: The first African-American State Police trooper is sworn in", Detroit Free Press, August 18, 2013.
For more information about the Michigan State Police, see Preserve, protect and defend : an illustrated history of the Michigan State Police in the twentieth century / by Phillip D. Schertzing. Paducah, Ky. : Turner Pub. Co., c2002.