When:
2018-01-02T00:00:00-05:00
2018-01-03T00:00:00-05:00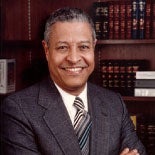 On January 2, 1970, Clifton Wharton became the president of Michigan State University, making him the first black president of a major U.S. white university.
Source : Michigan History, January/February 2011.
For more information, see Clifton Wharton wikipedia entry
The 89 year old (2015) recently came out with an autobiography, "Privilege and Prejudice: The Life of a Black Pioneer," published by MSU Press.