When:
2018-10-26T00:00:00-04:00
2018-10-27T00:00:00-04:00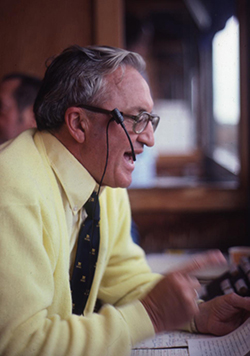 Bob Ufer's enthusiasm for "Meeechigan" football was infectious. (Image: U-M's Bentley Historical Library.)
On October 26, 1981, the radio voice of University of Michigan football, 61-year-old Bob Ufer, who enthusiastically and with no hint of impartiality broadcasted 364 University of Michigan football games, died of cancer.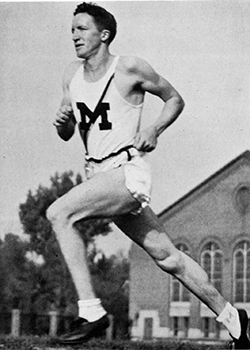 In addition to announcing Michigan football, Ufer was also a notable Michigan athlete, setting a 1943 world record in the 440 as a student.
He was in the first group inducted in 1978 into the University of Michigan Athletic Hall of Honor along with Gerald Ford, Bill Freehan, Tom Harmon, Ron Kramer, Bennie Oosterbaan, and Cazzie Russell
Sources:
Mich-Again's Day.
Frank Beaver, "'He felt what we felt'", Michigan Today, October 17, 2018.