When:
2023-05-04T00:00:00-04:00
2023-05-05T00:00:00-04:00
US 12 is now the only U.S. highway route still serving downtown Detroit, whose street grid was laid by Augustus B. Woodward, to have a five-way intersection of the roads that would become US 12, US 10, US 16, US 112 and US 25. US 24 still travels through Detroit from Puritan to 8 Mile Road on the far-west-side.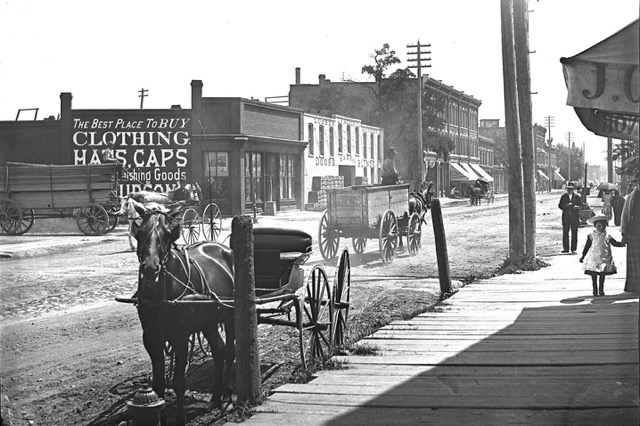 Michigan Avenue (year unknown) – From the Burton Historical Collection
As from the earliest days of its existence, US 12 enters Michigan from Indiana, southwest of New Buffalo and continues to the old junction of US 12 and US 112 in New Buffalo. It is now assigned between New Buffalo and Detroit (except through Ypsilanti), along what was US 112 until 1962.
On May 4, 2004, the Michigan Department of Transportation (MDOT) designated 209 miles (336 km) of US-12 from New Buffalo to Detroit as a Historic Heritage Route. The east-west corridor traverses the counties of Berrien, Cass, St. Joseph, Branch, Hillsdale, Lenawee, Washtenaw and Wayne. MDOT's Heritage Route Committee has approved the route's nomination as a premier addition to the Michigan Heritage Route Program.
US-12 is among the oldest road corridors east of the Mississippi River and accesses some of the most extensive and significant historic, cultural, scenic and recreational resources in Michigan. It begins in downtown Detroit, just blocks from the Detroit River, and extends through southern Michigan to the Michigan/Indiana border south of New Buffalo. It was originally a network of centuries-old trails created by Native Americans. Over the years it has had many names such as Sauk Trail, Chicago Road, and Michigan Avenue.
Believe it or not, but U.S. 12 was extended many times and now reaches the Pacific Ocean in the State of Washington.
Source : U.S. 12 Wikipedia entry
A fascinating new book traces U.S.-12 — Michigan Ave, if you're a resident of metro Detroit or Chicago — from its days as an Indian trail to when it became the second U.S. federal highway in 1825 and its current status as a scenic and leisurely alternative to the sameness of interstate highways.
The book is packed with facts and hundreds of photos.
Michigan Avenue begins at Campus Martius in downtown Detroit — grab a coney dog for the road at the famed Lafayette or American coney island restaurants — but the authors suggest the route really begins a couple of miles away, where St. Anne's parish was established July 26, 1701, two days after the landing of French explorer Antoine Laumet de la Mothe, sieur de Cadillac.
The route carried heavy traffic millennia before that.
A mastodon trail parallels U.S.-12 from Washtenaw County nearly to the Indiana state line. It's the longest mastodon trail ever found, part of the reason the mastodon was named Michigan's state fossil in 2002.
Just about every page delivers interesting information, including the fact that U.S.-12 was packed with whiskey smugglers carrying booze from Detroit's Purple Gang to Al Capone's organization during Prohibition in the 1920s and '30s.
Congress appropriated $3,000 to create the nation's second federal highway from Detroit to Chicago in 1825.
Cited book : Gladys Sabario and Susan Kosky, Michigan's U.S. 12 Heritage Trail : America's Second Federal Highway, Arbutus Press, 2015.
For the full article, see Mark Phelan, "U.S.-12 from mastodon trail to today, in words and photos", Detroit Free Press, June 28, 2015.
Aaron Mondry, "Michigan's highway: The history of Michigan Avenue, our state's most important road", Model D, March 6, 2017.
For a related story, see August 25, 1992 : New York Times Reports Discovery of Saline Michigan Mastodon Trail, Red Tape Blog.
For another, see March 2, 1824 : Father Gabriel Richard Petitions Congress. First Michigan Earmark?, Red Tape Blog.