When:
2022-06-30T00:00:00-04:00
2022-07-01T00:00:00-04:00
The Muskegon, Michigan Connection:
This bronze statue of Buster Keaton along with a commemorative plaque was purchased and placed in front of the Frauenthal Center in downtown Muskegon on Western Avenue on June 30, 2010.
The Keaton statue, created by artist and sculptor Emmanuel Snitkovsky, depicts Keaton behind an early motion picture camera that towers over the 5-foot-6-inch actor and director.
The rest of the story:
In 1908, Joe Keaton, actor Paul Lucier, and agent Lew Earl founded the Actors' Colony tucked away in the Bluffton neighborhood of Muskegon between Lake Michigan and Muskegon Lake. By 1911 over two hundred vaudeville personalities flocked to Bluffton each summer. They included Keaton, his wife, Myra and his son Joseph Frank, nicknamed "Buster," who were billed as "The Three Keatons." Pascoe's Place, a local tavern, became the unofficial club headquarters.
By the late 1920s, Keaton was among the top silent movie stars and one of the most recognizable – and wealthiest – faces in the world.
Even now, his films rank high in sales around the world and several are on the Library of Congress's National Film Registry, including:
Keaton acknowledged Muskegon's impact on his artistic aesthetic throughout his career.   He often called Muskegon home.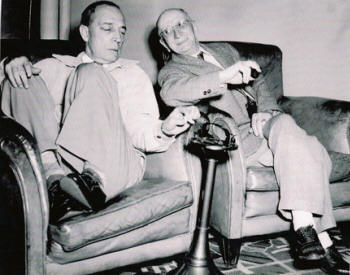 A lifelong member of the Muskegon Elks, Buster Keaton stopped by the downtown lodge during a 1949 visit to town with his new bride, Eleanor Norris Keaton.  Here he chats with former Actors' Colony member Charlie Sharp during his stay.  According to the local history book "Buster Keaton and the Muskegon Connection" by Pesch and Marc Okkonen, Keaton last visited Muskegon in 1949.  He died in 1966.
For the past 15 years on the first weekend of October, a fall convention of Buster Keaton's fan club — Damfinos: International Buster Keaton Society — has been held in downtown Muskegon. The convention screens Keaton movies at the Frauenthal Theater.
And there's more:
A hometown legend and worldwide icon is about to be memorialized once again on screen.
"Buster Keaton: Home," a documentary film on the early life of Keaton, is expected to interest national and local audiences.
Focusing on Keaton's years on the road as a young vaudeville star, summers he spent in Muskegon and the experiences that helped shape him, the film will chronicle his early life.
Sources:
Michigan Roadside Attractions: Buster Keaton Statue In Muskegon, April 9, 2016.
Actor's Colony at Bluffton, 1908-1938 : Buster Keaton and the Muskegon Connection.
Bill Iddings, "Buster Keaton set for permanent stay in Muskegon", MLive, May 30, 2010.