When:
2022-08-18T00:00:00-04:00
2022-08-19T00:00:00-04:00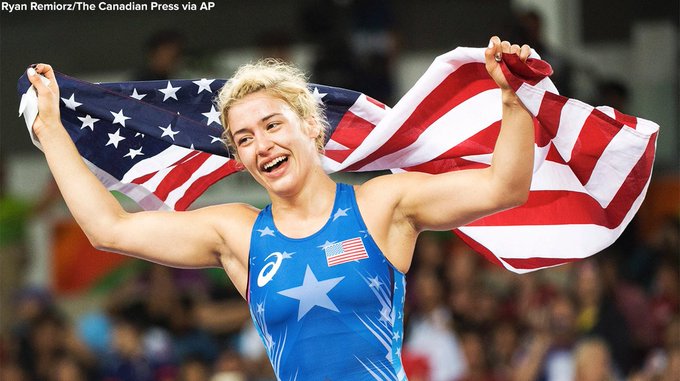 After winning the Olympic gold medal — the first for the U.S. in women's wrestling — Helen Maroulis dropped her head to the mat.
As the referee lifted her hand in victory, Maroulis covered her mouth in disbelief after winning the 53 kg weight class, defeating Japan's Saori Yoshida, 4-1.
Maroulis jogged off the mat and grabbed a USA flag, wrapping it around her. "At the end of it, I was like, really? I just did this?" she said. "Like oh my gosh!"
Yoshida had won 13 world championships and the last three Olympic gold medals. In fact, she had only two international losses. "That the opponent is stronger than me," Yoshida said. "I should have attacked sooner and faster but the opponent was stronger than me."
Maroulis walked around the ring, crying and sobbing, the American flag wrapped around her. "Where's my mom?" she asked, looking into the crowd. "Where's my mom?"
It wasn't easy, taking years of sacrifices.
As a teenager, Maroulis left her home in Maryland and moved to Marquette, where she finished her senior year of high school, just so she could train at the U.S. Olympic Education Center at Northern Michigan.
A year ago, she won the world championship at 55 KG. But she had to drop weight to be eligible to compete at this Olympic weight class.
Which was like trying to chisel bone off a granite statue.
She gave up basically everything that tastes good – chocolate and salad dressing and Christmas Eve dinner and Christmas Day dinner, trying to lose weight, trying to get down to 53 kilograms, so that she could wrestle in the Olympic Games.
"I didn't go celebrate (at Christmas) with extended family," she said. "I had to sacrifice a lot of social time."
She wouldn't go out to eat and she wouldn't go to café's because people do odd things at restaurants — they actually eat food. Besides, she was living on chicken, some spinach and a little salad, measuring everything out. She ate peanut butter as a cheat. "And I don't even like peanut butter," she said.
Every night, she would dread the final six hours of the day before she went to sleep, because she was so hungry.
"I knew the diet would challenge me in a way that nothing else could, because it's a 24-7 ordeal," she said. "I have to give a huge thank you to my parents and my coaches and everyone who put up with me. Honestly, I was grumpy all the time."
At the end of the press conference, she started thinking about her next meal. The ultimate celebration, after the win of a lifetime.
"A buffet," she said.
All you can eat.
For the full article, see Jeff Seidel, "Marquette's Helen Maroulis becomes 1st U.S. woman with wrestling gold", Detroit Free Press, August 18, 2016