When:
2023-03-14T00:00:00-04:00
2023-03-15T00:00:00-04:00
Grand Traverse Pie Co. has announced that anyone who places an order today will receive a free piece of pie on PI Day.
It's almost time for the coolest (and yummiest) mathematical day of the year – Pi Day, March 14th (3.14).
We are excited to once again celebrate P-i Day with P-i-e! All 16 of our GT Pie Co shops are offering a free slice of Michigan ABC Pie with any purchase all day on Wednesday, March 14th. The most excellent part of all? The apples, blueberries, and cherries in our ABC Pie are all from Michigan. We are honored to shine a light both on the quality of Michigan's agricultural bounty and the importance education plays within our state.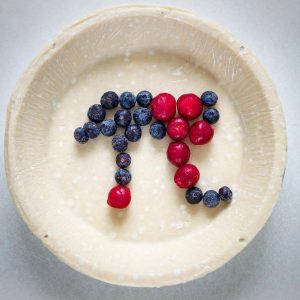 What is Pi? The symbol used by mathematicians to represent the ratio of a circle's circumference to its diameter is the Greek letter π. That letter (and therefore the number π itself) can be denoted by the Latin word pi. In English, π is pronounced as "pie" of course. The number π is a mathematical constant that is the ratio of a circle's circumference to its diameter and is approximately equal to 3.14159.
At Grand Traverse Pie Company, our commitment is to make amazing pie with purpose. We are passionate about making a heartfelt positive impact on those we serve. Make plans to join all of our positive, good-hearted people on Wednesday, March 14th at any GT Pie Co. location. We hope you enjoy what we love to do most – serve handmade pie made from scratch every day, just for you!
History of Grand Traverse Pie Company
Dave Busley and wife Denise founded the Grand Traverse Pie Company in 1996.
"Denise and I met at Michigan State in the 1970s," he replied. "We were both Michiganders -" she was from Kalamazoo and I was from Lansing. We started our careers in 1980 in Southern California. And, after about 15 years of that we decided to come home to Michigan. We had a couple of kids and I just didn't want to wonder -" given the insecurity and downsizing going on in the aerospace business at the time [Busley, an engineer by training, worked for Lockheed] -" if we were going to get laid off. We just didn't have a passion for our work despite the fact that we were both successful in our careers. All this coincided with my 40th birthday and we wondered if this was it, was this who I am, is this it for now? What is the point that you come to before it's too late to change?" he asked himself.
Deciding to Return to Michigan
Busley explained "that was one motivator. The other was that we wanted to move back home. We both wanted to live in Traverse City, even though we hadn't before. So we kind of reverse-migrated and moved back this way. But, what were we going to do? The idea was that we would have our own business so the job security would be up to us. But what was that going to be. We couldn't afford to buy an existing business so we would have to invent one."
Busley said that he and wife Denise had "wandered into a small pie shop in Julian, California, which is a small tourist town east of San Diego up in the mountains, in apple country, and we fell in love with the feel of that business. It was mainly apple pie, it smelled great, everybody was having a great time, you could literally see the fruits of your labor (pun intended) on a daily basis. In a big corporation you write reports -" there's no sensual taste-sight-smell kind of thing -" it's a business trip to present a proposal to the Department of Energy. It's kind of hard to get excited about that kind of thing after 15 years."
At about that point, inspiration hit them. "Here we were looking at a pie shop. It looked simple enough that we thought we could figure it out. Of course, we had never baked a pie before. Fortunately, Liz Smothers, who owned the Julian Pie Company, said she'd train us. 'I'll teach you the business, the ingredients, the recipes, the equipment, the space -" everything you need to know to make pie.' So we learned the pie business but needed the money to actually start a pie company in Traverse City." A local banker who believed in the couple put his name on an SBA (Small Business Administration) loan and, combined with their own money, it was enough to get the Grand Traverse Pie Company in business.
A Family Affair
Busley picks up the story from there. "Another aspect of the appeal of starting our own business in Traverse City was that our kids could actually interact with us on a professional level. When I was at Lockheed I was behind a wall of security guards and digital ID cards. The kids couldn't see what I did or where I did it. So here at GTPC I could take them with me to get supplies, they could learn from me as I did things that they could actually see -" no report writing. I could teach them a work ethic, and communications skills and management -" in addition to how to make the bed and how to play catch. Neither one of them is going to take over the business, that's not what it was about. Denise and I wanted to make sure that during those formative years our kids could learn more things from us in addition to what they could learn in school. The pie business could connect us with our family and our community. That's kind of our core."
Deciding after a few years to expand beyond their original fruit pie shop, the Busleys decided to expand their offerings and their physical operations by franchising their pie shops. "We have franchisees that reflect the company's core values. The Grand Rapids franchisee, Dave Standfest, is a pastor at New Hope Church and a very charismatic and visionary entrepreneur. He has his four kids very involved in his pie shop. He acquired the franchise in Grand Rapids as an opportunity for his family to be involved. Tina Divita over in Norton Shores, near Muskegon, works very closely with her daughter Nikki. Scott Byrd up in Petoskey has his two junior high kids working in their pie shop -" they really know the pie business. Pie is all about family anyway, that's what I love about it. Pie is about connecting. What's more natural than motherhood and apple pie? When you smell a pie cooking you probably can experience some fond memory of family and growing up," Busley reminded us.
Today, there are 18 Grand Traverse Pie Company franchises in Michigan and Indiana.
Source: Richard Blanchard, "Grabbing a Bigger Slice", Corp! Everything Business, January 8, 2009.