When:
2018-06-18T00:00:00-04:00
2018-06-19T00:00:00-04:00
On June 18, 1923, Checker Cab rolled its 1st taxi off the line in Kalamazoo, Michigan.   Morris Markin founded the company in Chicago, but moved the operation to Kalamazoo due to skilled labor available and extra space at the Handley-Knight & Dort Body plants.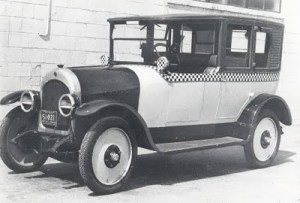 .
Notably, the term "checkered car" came from the distinctive checkerboard patterns painted on all of Markin's taxis, to signify the finish flags at races, a symbol of winning, according to Morris.
The rest of the story:
Born into a poor Jewish family in Smolensk, Russia, Morris Markin (July 15, 1893 – July 8, 1970)  worked in a clothing factory from a very young age. His determination and hard work got him promoted to a supervisor position by the age of nineteen, when he emigrated to the United States in November 1912. When he arrived at Ellis Island, he spoke no English and couldn't afford to pay the bond required to enter the country. According to legend, a janitor at the facility loaned him the twenty-five dollars he needed for the bond.
From New York City, Markin went to Chicago to live with his uncle. He held several jobs as an errand boy, the last for a tailor who taught him the trade. When the tailor died, Markin purchased the business on credit from the widow. He worked hard and saved enough money to bring seven brothers and two sisters to the States. Markin then teamed up with one of the brothers and opened a factory which made pants under government contracts during World War I, earning a fortune.
In 1921, Markin entered the automobile business when he collected an auto body manufacturing company from an engineer named Lomberg. Markin had loaned fifteen-thousand-dollars to Lomberg earlier in an effort to keep the company afloat. When it failed, Lomberg returned to Markin to ask for more money. Markin refused and took over the company for his debt.
He then picked up a failed automobile manufacturer, Commonwealth Motors,   and with it the accountant, Ralph E. Oakland. Then, in a bold move, Markin purchased the defunct Handley-Knight chassis plant and the Dort body plant in Kalamazoo, Michigan. He moved his entire operation to Kalamazoo and on February 2, 1922 formed the Checker Cab Manufacturing Company.
To a degree Markin owed his success to the Prohibition and the Mafia of the 30s: thanks to his cars' common appearance, the roomy boot, where one could hide several small barrels with forbidden liquids, and the spacious interior, fit for up to 9 people, it became the favorite among the gangsters, and even Al Capone himself rode in a modified "checkered car" around Chicago.
Markin also was fairly notorious himself in his dealings with taxi companies, unions, and his main competition John D. Hertz (founder of Hertz Rent-a-Car).  At one point, his home in Chicago was bombed.  By 1929, Hertz sold out his taxi business to Markin.
The iconic Checker Marathon in classic taxi livery.
More trivia:  In 1960 the company produced the cult model "Marathon" for public consumption, made famous by Martin Scorcese's "The Taxi Driver" film starring Robert DeNiro.
An advertising image for the Marathon sedan from the 1960s. Checker stressed the vehicle's value for a family.
By the time of his death in 1970, Markin was a pillar of the Kalamazoo community and the unsavory history of his company was long forgotten.
Markin's son David took over operation of the company after his father's passing and production of the Checker taxi continued until Checker Motors stopped taxi production in 1982.
David gifted his father's homestead to the city of Kalamazoo in 1970, creating Markin Glen County Park , a 160-acre park at 5300 N. Westnedge Ave.  Not only did Markin's son donate the property, but he also provided an endowment of more than $1 million to sustain it.
The city later sold the park for a nominal amount to Kalamazoo County. Part is a nature preserve and part has recreational areas developed in the late 1990s and thereafter with swimming and fishing ponds, a camp ground, a playground and tournament-rated tennis courts that are open to the public.
Sources :
#ThisDayInAutoHeritage, June 18.
"Business: Checkered Yellow", Time Magazine, September 22, 1930.
Barry Moreno. Ellis Island's Famous Immigrants.  Arcadia Publishing, San Francisco,2008.
Morris Markin Russian American Heritage entry
Ronnie Schreiber, "Uber's Legal Woes Are Nothing Compared to Taxicab's Early Days", The Truth About Cars, February 26, 2018.
"Checker Motors: Taxicab Makers", Kalamazoo Public Library.
Al Jones, "David Markin Remembered As A Passionate Businessman, Art-Lover, Tennis Booster, Philanthropist, and Father", Kalamazoo News, June 1, 2013.