When:
2022-06-27T00:00:00-04:00
2022-06-28T00:00:00-04:00
The last Sunday in June of each year shall be known as "log cabin day".
History: 1989, Act 60, Imd. Eff. June 16, 1989 (MCL 435.241)
Michigan isn't a state outsiders usually associate with log cabins. Settlers who marveled at the pine and cedar forest they found there, however, started a long, proud log-building tradition. Today, it's the only state that holds a yearly festival to honor its pioneer dwellings.
Log Cabin Day began in 1987 as part of Michigan's sesquicentennial celebration "to commemorate log cabins and the important role they played in this state's earliest days," according to the Legislature's joint proclamation.
At the time this article was written (2011?), the oldest surviving cabin  in the state was built in 1780 on Mackinac Island and features square logs and French-Canadian notching. At least seven more cabins were built before 1830. The newest are milled and handcrafted log homes built within the past few years, most using the same native trees that Michigan's settlers found so accommodating.
2011 Directory of 105 Log Cabins in Michigan Prepared for Log Cabin Tour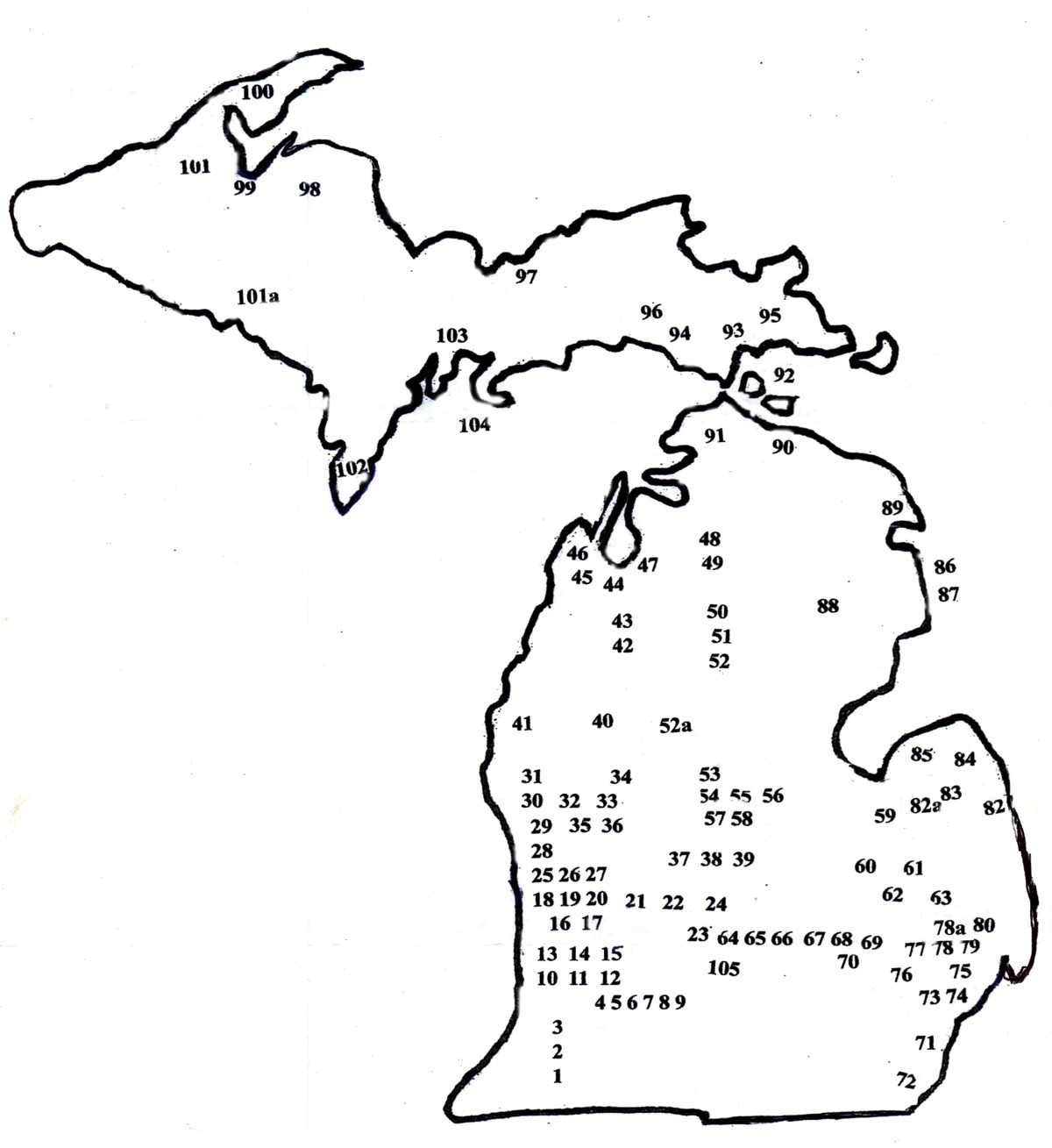 (1) Buchanan Township. Two cabins in woods in a picturesque, hilly area, an old one ca. 1852 and a New England Log Home built in 1980. Take I-94 exit 6 (Union Pier), go east to first stop, Lakeside Rd., go left to next stop, Warren Woods Rd., take this east 11 miles to Boyle Lake Rd., at sign of Three Braves Campground, turn north. Property is at l4667 Boyle Lake Rd. Owner is Bennett Davison. Visible from road, no open house.
Murdock Log Cabin in Berrien Springs.
(2) Berrien Springs. The 1830's Murdock Log House, located in the 1839 Berrien Springs Courthouse Square, is the oldest known two-story log house in Michigan (but it might be the second. See Davenport House entry #92). The historic square is on the north side of the village. Take I-94 to Fairgrounds or Niles Ave. exit 27, go south. Hours: 1 to 4 p.m. (269) 471-1202.   The cabin originally stood approximately three-quarters of a mile north of the courthouse square. Built about 1830, the building has been associated with Berrien County's first lawyer and one of Berrien Springs' founders, Francis B. Murdock of Pennsylvania. By the 1960s, the cabin was completely concealed beneath numerous additions and wooden siding when workmen uncovered it. Demolition on the building had begun to make way for a new subdivision.  The Historical Association moved the house to the 1839 Courthouse Square in 1974 and restored to represent early pioneer life in southwestern Michigan. The log house is furnished with reproductions that can be handled by school children and viewed up close by visitors during special events.
Early settlers built log houses like this one as a first home. After a family became better established, it either built a more stylish and comfortable house or covered the log building's exterior with siding and plastered its interior walls. Early residents of Berrien County did not live in log houses indefinitely by choice. Accustomed to refined homes back East, they desired the same standards in the West.
(3) Pipestone Township. Maple Island Log Home, owned by Becky and Jim Hardin. From Eau Claire going west, take Pipestone Rd., turn north, go to 5228 Hochberger. Visible from road, no open house. (269) 461-3120 .
(4) Eau Claire. Hoyt log cabin monument in the Eau Claire cemetery. The 5 1/2 ft. high, 3 1/4 ft. wide monument was hand carved from limestone from a quarry at Bedford, Indiana. The monument was erected for Mr. and Mrs. Elwell Hoyt, who built a log cabin in Eau Claire about 1900 used as a museum, no longer there. The cemetery is on M-62 just east of the village before the M-140 intersection. (269) 925-3836.(Pictured on cover of new book: Michigan Curiosities, by Colleen Burcar.)
(5) Sodus. Log Cabin Society of Michigan log cabin, at 4286 Watson Rd. Office was moved in 1999 to farmhouse at 3503 Rock Edwards Drive just north of Sodus. New highway system. Take US-31 Exit 22 to Sodus Parkway, turn east, next road to left is Rock Edwards Drive (1/4 mile long), turn east again, go a mile on Watson Rd. past the bridge over Pipestone Creek to the entrance log cabin where Log Cabin Day brochures are available. Open house is planned for 2013. (269) 925-3836.
(6) Benton Township. Jakway Log Cabin (ca. 1840), with artifacts of the Jakways, ancestors of Larry and Mike Culby, owners, who came here by covered wagon in 1839. Not the original log cabin on the site, it was moved from its location at juncture of Blue Creek and the Paw Paw River 3 miles away about l895 by Sen. James Jenks Jakway and later restored as a museum. It is located at 1250 Hillandale east of Benton Harbor. Take I-94 to Napier exit 30, go east 2 1/2 miles to Hillandale Rd., turn north (left), farm is right around corner or take US – 31 to Napier exit, turn east. No tours. (269) 944-1467
(7) Benton Township. Mary's House of David log cabins with four log cabins. Located at ll58 E. Britain Ave. past the House of David; look for 7-sided star sign, turn right at Eastman St., cabins are at left. A log cabin on the grounds of the House of David, now off-limits to the public, can be viewed from public streets off Britain Ave. on Eureka (other log cabins off Blaine were torn down in fall 1997.) Their trailer court on M-139 still has three log cabins. Admission to Mary's City of David, $1; guided tours, $4. Visit their website at http://www.maryscityofdavid.org/ Ph. (269) 925-1601.
(8) Bainbridge Township. Log home built in 1994 for Mike and Liz Braamse, logs supplied by Rocky Mountain Log Homes. Located at 289 Paul Ave. going south from Territorial at Millburg along the way to Hillandale Rd. (269) 944-3347. Visible from road, no open house.
(9) St. Joseph Township. Log cabin built on Emery Island in St. Joseph River by Eric Peet in 1976. Now owned by Jerry Hunziker, the island was then owned by the widow of the late Dr. Charles B. Porter. Chinking was done with blue clay from the river mixed with straw. Take I-94 Pipestone exit 29 going south, where new highway Sodus Parkway joins, go right (called "Nickerson") all the way to Colfax, go left, turns into Jakway. Located at foot of Jakway where it intersects with Riverbend. Visible from banks of river, no open house.
(10) Benton Harbor. Log home along St. Joseph River harbor built of 12″ square beams taken from Old South Pier by WPA workers, built in l932/33 by Dr. Alan Honey, a dentist who had his office there. Located next to Pier 1,000 Marina. A home designed by Frank Lloyd Wright is on the other side over a hill. Take Colfax Ave., at May St. stoplight turn west and go to end of street. It turns into unmarked gravel road ahead: 560 W. May St. At owner's request, no phone calls. Visible from street, no open house.
(11) Benton Harbor. Higman Park Log Cabin at top of hill overlooking Lake Michigan built in 1943 by Dr. Bouton Sowers using old railroad ties and doors from old Benton Harbor RR station. Has red shutters and moss-covered roof. Go to Main St. in Benton Harbor downtown, take Water St., which is across from Pipestone at main intersection to North Shore Dr., go west (left) on Higman Park Rd., then up the hill at right (there is a list of residents, permission granted for tour), at top go to lane on left to 185 Higman Park. Log cabin is owned by Kristine Peterson. Visible from street, no open house.
(12) Benton Township. Log cabin (1952) now owned by Bruce Burke. Built with vertical logs in wooded area next to Southwest Michigan Regional Airport with bathroom and mudroom added in 1966. Take Territorial Rd. to Woodland Ave. (1/4 mile west of airport entrance), go north to Ramona, last street bordering airport, turn left, go to 973 Romona. Visible from street. Not open for visitors. Email owner bruce_burke@juno.com
(13) St. Joseph. Old log home at corner of Niles Ave. and Lane Dr., only log cabin known to be in city limits. Now owned by Julie White. This was a stagecoach stop on land owned by a Mr. Lane, a farmer, and his cabin was occupied by his hired man. It was located on a nearby ravine and moved to the present location in 1923. On Niles Ave. go 2 blocks north of Napier intersection (towards city), turn right at 2309 Lane Dr., first house on the street at right. Visible from street, no open house.
(14) Coloma. North Berrien Historical Museum, a new 40′-by-60′ log building housing the collection of historical artifacts of the North Berrien Historical Society. Take I-94 exit into Coloma, turn left at blinker light at St. Joseph St., go to Coloma St., turn right. Located at 300 Coloma St. across from high school. closed on Sunday, call first for hours. (269 ) 468-3330.
(15) Hartford. Next to the Van Buren County Poorhouse Museum a replica of a pioneer log cabin built and furnished by the late Charles Pike in 1989. Another event: Demonstration Day, Aug 10, 2013. Located at 58471 Red Arrow Highway east of Hartford. Hours for 2013: Wed., Fri., & Sat. Noon to 5:00. Adults $5, children 5 -12, $1 (under 5, free) Closed on Sundays outside viewing only. Call (269) 621-2188
(15a) Lawrence. Log cabin with cross in chimney, built in 1993 by Joseph Tetreau, Jr. as a memorial to his son. Has a fieldstone fireplace and second floor outside porch. Located in a wilderness area with owner's pet goats and rabbits. Take I-94 to Lawrence exit, go to stoplight in center of town, go east (right) on Red Arrow Hwy, for one mile, turn south ( right) on 50th St. for one mile. Turn east (left) on 60th Ave. for 1/2 mile, go to second driveway on the left with zig-zag fence and goats. Park car at gate. Walk about 1/2 mile on woods road back to cabin. Open 9 a.m. to 5 p.m. Cell phone: (269) 364-7248
(16) South Haven. Michigan Flywheelers Museum, log cabin built in 1989 by Ed and Kathleen Hills, used as settler's log cabin or gift shop since June 1999. The museum grounds include antique gas steam engines and tractors in a fairgrounds-like location with evergreen trees. On Highway 196 at South Haven, take exit 20, go east 2.3 miles on Phoenix Rd. (CR 388) then south on 68th St. 1/2 mile to the museum. Open 10a.m. to 3 p.m. Donations welcome. No admission charge (269) 639-2010.
(17) South Haven. Log cabin built in 2000 by Gary and Wendy Steudle in South Haven Township, Van Buren Co. from old Pioneer Logs building in Marshall built in the 1940's and rebuilt here. In Log Home Living, July 2006. Located at 08575 73rd St. (269)637-8033 or cell (269) 767-2227. No open house.
(18) Saugatuck Township. The Hunter's Lodge, a 1946 lodge or motel with six units, now owned by Paul Hieger and John Finney, open year round. Take I-196 to exit 36, turn west (left) onto Blue Star Highway (A-2) going to Saugatuck. It is the first property on the right. For reservations, phone(269) 857-5402. see www.thehunterslodge.com "Our grounds are available if anyone would like to picnic here as well."
(19) Grand Junction. Log cabin built in 2005 by Gary Steudle from red pine logs. For sale. Located ten miles east of South Haven in Columbia Township, Van Buren Co. near Grand Junction at 08502 West Shore Dr., Silver Lake, Grand Junction, MI. 49056. No open house. (269)637-8033.
(20) Pullman. Old log cabin for sale (pre 1884?) Two-story cabin was used as an antique shop, now vacant, owned by Carissa Gray. On Highway 196 north of South Haven, take the Pullman Rd. exit, go 8 miles east on M-109 to 55th St. Cabin is on northwest corner across from Pullman Bible Church. No open house, outside viewing only. For more information email owner: carisssa@cruxart.com or contact the realtor, Mario Diaz (cell phone) at (616) 886-4569.
(21) Dowagiac. Old log cabin returning to nature, about 5 miles north of Dowagiac. Take M-51, turn west on M-152 a short distance, turn north on Phillips Rd. Go past Midway Engineering 1/4 mile, cabin is on west side of road in woods 1/4 mile south of the Cass Co. boundary line (Phillips Rd. turns into 60th St. in Van Buren Co.)
Pioneer Log Cabin Museum in Cassopolis.
Pioneer Log Cabin Museum in Cassopolis.
(22) Cassopolis. The Pioneer Log Cabin Museum built in 1923 of logs donated by local farmers, houses a fascinating collection of pioneer memorabilia of Cass Co. settlers. Has stuffed Michigan birds and animals from the 1860s, including a passenger pigeon. Fiddlers, crafts, refreshments. The museum is located on M-60 at Stone Lake, south of the stoplight. Take I-94 to Paw Paw exit 60, go south on M-40 to M-60, turn west. Hours: noon to 5 p.m. (269) 445-3087 or 445-2224.
(23) Leonidas. A live-in log cabin built by Marvin and Lorraine Stuart on the Nottawaseeppi River at 52236 Correll Rd. 11 miles west of Union City on M-60 and 3/l0 of mile north on Correll Rd. or 1 mile east of Leonidas, located southeast of Kalamazoo. Visible from road no open house for 2010. (269) 496-8008.
(24) Kalamazoo. Log Cabin at Kalamazoo Nature Center rebuilt in 2006 Pioneer-type activities are planned. Take US-131 north off I-94 to D Ave. exit, follow D Ave. east for 3 miles to N. Westnedge Ave. Turn right or south on N. Westnedge and go one mile (past the Kalamazoo Nature Center) to E Ave. Turn right or west and go l/2 mile to Delano Ave. on the left side. Admission is $6.00 for adults, senior $5.00 (55 and older), children $4.00, 3 or under free. Hours: l to 5 p.m. (269) 381-1574, ext. 29, See www.naturecenter.org
(25) Fennville. The Dunningville Cabin, built of railroad ties in l914, has found a new home at the Crane Cider Mill and Pie Pantry Restaurant. It was moved from Dunningville in 1987 by Ed Zuverink to his "Rabbit River Village," now dismantled. Take I-196 exit 34, to Fennville, going east on 124th Ave. (M-89.) Hours: 11 a.m. to 4 p.m. (269)561-2297.
(26) Fennville. Heritage Log Homes, of SW Michigan, built by Theresa Wiley & Ed Snell. Take 196 to exit 34 to Blue Star Hwy/A2, turn south. Go to 121st Ave. Turn east on 121st to 6633, watch for sign, refreshments. Hours: 1-4p.m. (269) 543-4886. www.heritageloghomes4sale.com
(27) Allegan. Allegan Historical Village of ten buildings, four of them log cabins, located at the fairgrounds. Historical village buildings not open but can be viewed from outside (open for Michigan Fiber Festival Aug. 16 -18, 2013). Antique show is held every last Sunday during summer months. Admission: $3 per person. (269) 673-6501.
(28) Holland. Holland Log Homes. Model home and offices at SE corner of US-31 at 13352 Van Buren St. Not open on Sunday, can be viewed from highway. Open house Saturdays by appointment only. Open M – F 9 a.m. to 5 p.m. (800) 968-7564.
(29) Muskegon. Blockhouse. Replica of historic fort along the Scenic Drive, Muskegon State Park. Built by CCC in 1935, it burned down in 1962 but was rebuilt in 1964. Enjoy picnic tables and hiking trails. Take US-31 to M-120 going west, keep going west, turns into Lake Ave.-Ruddiman Ave.-Memorial Drive-Scenic Drive north. (231) 744-3480.
(30) Blue Lake Twp. At Gerber Scout Camp, three log structures: Fort Clapsop (replica), Tryon Lodge, and the Evans Dining Hall. First Log Cabin Day, 2010. Two-hour tours by reservation only, beginning at 9 a.m. or 10 a.m. , over by noon. A one- mile hike. Location of camp : M-120 to Twin Lake. Go north on Blue Lake Rd. ca six miles to Owasippe Rd. You can only turn left (west.) Go 3/4 mile to Camp Gerber. Call (231) 739-4932 for reservations.
(31) Hart. Chief Cobmoosa Memorial Log Cabin in the Hart Historical District. Newly built log cabin honoring Chief Cobmoosa (or Cobmosa), the Ottawa Indian educator. He built four Indian schools in Elbridge Twp., dying at the age of 98 in 1866. Another log cabin, also a museum and other old buildings are there. The display of Indian furnishings can be seen through the windows. A log cabin with vertical logs, French Canadian style, is also in nearby John Gurney Park. (231) 873-2488.
(32) Marne. Homestead Timbers cedar log home of James Bursma built in 2004 in 83 acres of woods, " People's Choice" prize winner, west of grand Rapids in Tallmadge Township.Take I96 Exit 23, Marne, go south on 16th through Marne past Camp and Cruise, over creek, top of hill turn west on Fritz to end of road: 1875 Fritz. Call first (616) 677-5262.
(33) Grand Rapids. Blandford Nature Center has a restored log cabin built in l866 open for tours. Located at 1715 Hillburn NW. Take Leonard St. exit off 131 freeway, go west 3 1/2 miles to Hillburn, turn right. Hours 1 to 5 p.m. (616) 453-6192.
(34) Belmont. Log cabin owned by Jim and Marie Wisnewski, originally built in 1952 of cinderblock. Completely reconstructed in 2002, keeping only parts of two exterior walls, using pine trees planted forty to fifty years ago by the owner. Saddle-notch construction, stone fireplace, antique stained-glass windows, radiant floor heating, and handicap access. North of Grand Rapids on US-131 exit 95; go east on Post Dr. 1.25 miles to Belmont Rd., north to 6725 Belmont Rd. (616) 364-8274. Call first. Visible from highway.
(35) White Cloud. Laura K. Hall's log cabin in Newaygo Co. Take M-37 out of White Cloud, turn east
at the light onto Baseline Rd.,M-20. Go five miles. Turn north on N. Pine Ave., go l.5 miles; it turns into a dirt
road. Go to the 2nd mailbox on left, at l7l7 N. Pine Ave. -watch for sign "Farm Fresh Eggs for Sale." Her e-mail: vncntvngrg@aol.com.Call first (231)937-4652.
(36) Newaygo. New 1 1/2 story log home, handcrafted by Tim and Joan Farmer, located at 7803 72nd St. NE. Take US-131 north from Grand Rapids 35 miles to M-82 (Newaygo exit), west 5 miles to Cypress Ave. Turn right (north) 2 miles to 72nd St. Turn right, 3/4 mile to home. (616) 874-6901. Call first.
(37) Lansing. Darius Moon Log House (1859) at Woldumar Nature Center. Hours: 11 a.m. to 3 p.m. Located at 5539 Lansing Rd. (517) 322-0030.
Perkins-Copland Cabin at Meridian Historical Village.
(38) Okemos. Meridian Historical Village. The Perkins-Copland Cabin has been moved from Haslett making the seventh building in their historical village. Address is 5151 Marsh Rd. , Okemos, east of Lansing. Go north of Meridian Mall off Grand River Ave. or take I-69 and go south towards Okemos. Hours 1 to 3 p.m. (517) 347-7300.
Here is an 1830s log cabin in the park in Owosso next to Curwood Castle, built for Elias Comstock, who had the first permanent house in Owosso – still there! It has been moved three times Now it is in a beautiful park along a river.
(39) Owosso. Comstock Log Cabin in park next to Curwood Castle. One-room log cabin built in 1836 for Judge Elias Comstock. Northwest of intersection of M-21and M-52, take Curwood Castle Drive. (517) 725-6242.
(40) Baldwin. Shrine of the Pines. The famous log cabin built in 1941 to house more than 200 gnarled artifacts made by Raymond W. Overholzer from white pine stumps and roots. Located 2 miles south of Baldwin on M-37. Admission: adults $3.50, seniors (55 or older) $2.75, children 6 to l2 years $1.00, under 6 free. Hours: l0 a.m. to 6 p.m. (231) 745-7892.
(41) Ludington. White Pine Village. Of the 20 buildings, two are restored l9th century log cabins, the Quevillon Trapper's Cabin and Cole's General Store. Located off US-31 3 miles south of Ludington at l687 S. Lakeshore Dr. Admission: adults $5.00; students under l8, $4.50; 6 or under free; family rate $ l5.00. Hours: 11 to 4:30 p.m. (231) 843-4808.
(42) Lake City. Missaukee County Historical Society Museum (1892), a log cabin located 4 miles south of Lake City on M-66 across from the Country Kitchen. Not open, "you can peek in the windows". (231)825-0178.
(43) Copemish. Marilla Historical Society has two log cabins, one is a two-story house, American chestnut logs, used as a stage coach stop, the other, an old hunter's cabin. Also a barn and museum in old school house (shared with Marilla Township Hall on floor above.) Located at 10400 Marilla Rd. south of Copemish. From west take M-115 through Mesick, go 5 miles more, take Marilla Rd., turn left. Hours: 1 to 6 p.m.(3 to 6 p.m. for music and storytelling.) (231)362-3745. Call first.
(44) Traverse City. Old Mission Peninsula Lighthouse Park log cabin (1858.) Members of the Old Mission Peninsula Historical Society will answer questions. Craft demonstrations, Civil War poet, Civil War nurses and carriage rides. Located l8 miles north of Traverse City at tip of Old Mission Peninsula (end of M-37.) Hours: 1:00 to 5:00 p.m. (231) 223-9880.
(45) Glen Arbor. D. H. Day Campground log cabin (1900). Located 2 miles west of Glen Arbor on M-109, enter campgrounds, drive to the back of the park. (231) 352-4912.
(46) Glen Arbor. The Cottage Book Shop, a log cabin moved to 5989 South Lake St., Glen Arbor, MI 49636. Hours on Sundays: 11 a.m. to 4 p.m. (800) 254-5536, pin 7186. Website: http://www.cottagebooks.com/
(47) Alanson. "The Fort at Ponshewaing", a 1946 log building now a wine and beer shop owned by Jim Bosch. Located about seven miles north of Petoskey on US-31, at 8947 US-31 S. Hours (to Aug. 31) Mon. – Thur. 10-11 p.m., Fri.-Sat. 9- Midnight, Sun. noon- 6 p.m. (231) 439-0833
(48) Grayling. Chapel in the Pines (1952) in Hartwick Pines State Park. Handcrafted with hand tools and wooden pegs with a window in the shape of cross. Weddings are now allowed here (seating available for l8 only.) Motor vehicle fee of $4.00. Take I-75 to exit 259. It is 7 1/2 miles north of Grayling. Hours: 8 a.m. to l0 p.m. (517) 348-7068.
(49) Grayling. 1880's Trapper Log Cabin maintained by the Crawford County Historical Society. See website http://www.grayling-area.com/museum/
(50) Roscommon. New log home of Don and Suzanne Pennell, built of owners' red pine trees in their "Whispering Woods." How to build a home on a budget in one year (2 people.) Also a log barn built in l993/94. Porches on front and back of house. Take I-75 exit 238, go north on M-18 for 8 miles (5 miles past 4 corners in village of Roscommon), left on Willows Rd., go one mile, then right on unpaved E. Pioneer Rd., take 2nd drive on left, follow signs to 5343 E. Pioneer Rd. Hours: 11 a.m. to 5 p.m. Home: (989) 275-5563, work: (989) 275-5003. Call first.
(51) Gladwin. Gladwin County Museum. Five restored log cabins, a red schoolhouse, chapel, and RR depot at 5l5 E. Cedar Ave. Sponsored by the Gladwin Historical Society. Hours: 1 to 4 p.m. (989) 426-9277.
(52) Beaverton. Log cabin (l820-50) owned by Janet Whitmer, moved from Ohio in 1996 and restored with the help of Amish neighbors. Demonstration using lumbering tools for hand-hewn logs. Go north from US-10 at Coleman, go 6 miles to 5320 Dale Rd., 4th driveway, parking across the road. Hours: 1 to 4 p.m. (989) 435-7388.
(52a) Clare. Clare Co. Historical Society log cabin built in 1897 by Lewis Ott, moved, relocated, and restored. Built for a family with 18 children, it is reduced to 1/3 its original size. Take Clare exit off -US-27, go 3 miles north to Dover Rd., go right one mile to stop sign at the Eberhart Rd. intersection where the Ott Cabin, Dover School, and Museum are located. Open 1 to 5 p.m. Ph (989) 539-7546.
(53) Sanford. Log cabin next to Sanford Museum. Built in 1879, moved to the museum grounds in1991. A kitchen was added in 2010. Refreshments served on Log Cabin Day with Smith family descendants on the site to greet visitors that day. Located on northwest corner of North Saginaw Rd. and Smith St. (2222 Smith St.) across from the Eagles Club and Pere Marquette Rail Trail. Other buildings include a church, town hall, schoolhouse, and windmill. Depot and full size railroad cars. Log cabin also open Founders Day, Sept 10-11, 2011. Log cabin is open every Sat. and Sun. Memorial Day to Labor Day. (989) 689-4784 . See: www.sanfordhist.org
(54) Midland. The Osborne-Love House, built l870-75, owned and restored by Richard and Marilyn Osborne at 2630 Gordonville Rd. It is decorated like a 1900 cabin, has outhouse, barn, sawmill, grist mill. Hands on quilting, and corn shelling. Take M-20 west of Midland, turn south at M-30, take Meridian Rd. to Gordonville, turn west at Gordonville Rd. and go 5.2 miles. Open Sat. 9 a.m. to 5 p.m. and Sunday 1 to 5 p.m. (989) 631-2432. or (989) 430-6449.
(55) Midland. Chippewa Nature Center's Homestead Farm features an 1870's log cabin and log barn, an l880's log schoolhouse, and a sugarhouse for maple syrup production. From M-20, take Homer Rd. (3 miles west of Midland) south 2 miles to Prairie Rd. Turn left (east) and go 3 miles to Badour Rd., turn left, on to Badour at sign. From Bus. l0 in Midland, turn west on Cronkrite (also called Poseyville Rd.) Cross Tittabawassee River bridge and go right on St. Charles. Follow signs to Chippewa Nature Center. It is 3 miles from bridge. Located at 400 S. Badour Rd. Hours are: 1:30 to 4:30 p.m. (989) 631-0830. See http://www.chippewanaturecenter.com/
(56) Midland. Log home built in 1988 by the late Leonard W. Newman and his wife Marion from oak trees on their 240 acres of woods. A rebuilt 130 – 140 year old log cabin is also on the site. Take US-10 to the Stark Rd. exit 3 miles west of Midland. Located at end of a 1/2 mile lane at 3373 N. Stark Rd. . (989) 687-2244. For a video tour see website: www.wideopenwest.com/~knewman4806 . Not open this year, not visible from highway.
(57) St. Louis. Old log cabin preserved by the St. Louis Area Historical Society, located across the street from the St. Louis Area Historical Society Museum on Crawford St., west of Saginaw " in the middle of the mitten." On US-127 take exit 127 from the south and go two miles, or Exit 127A from the north and follow the business route, go about 4 miles on Rt. 46. Also open on Thursdays, 1-4 p.m. For more information email phansen@stlouismi.com
(58) St. Charles. Hartley Outdoor Recreation Area, 2 cabins: l896 Schroeder Cabin (on State Register) and the Henige Cabin at Murphy Farm. For Schroeder Cabin, go north of St. Charles to North St., west away from McDonald's and follow sign to Hartley Center, cabin is west of parking lot. For Henige Cabin, same directions but follow the signs to the Murphy Farm, 2 miles on right, take 2nd entrance. Both are open 12-4 p.m. (989) 865-6295.
(59) Flint. Crossroads Village. Celebration at the l840 Salter House, moved in 1995 from Greenfield Village. Live animals, spinning, weaving, and gardening. Take I-475 to either I-75 or I-69 to Saginaw St. take Saginaw St. north to Stanley Rd., then east on Stanley to Bray Rd., go south to village. Admission: adults $10. ($13. with RR or boat, all three $16.), seniors $9. (with RR or boat, $12., all three $15); children 4 to 12 $8.00 (all three 12.50) Hours: l0 a.m. to 5 p.m. Call (800) 648-7275 ext. 858, or (810) 763-7100, ext. 858.
(60) Holly. Holly State Recreation Area & Seven Lakes State Park, Rolston Cabin (l938, a rental cabin.) Open house. Take I-75 to exit 101, Grange Hall Rd., head east about 3 miles to McGinnis Rd., right 1/2 mile to cabin road (entrance on right.) Hours: 1 to 5 p.m. (248) 634-8811.
(61) Waterford. Log cabin on grounds of Waterford Twp. Historical Society headquarters. Vintage cars, living history encampment – l8l7, strawberry shortcake, sundaes, crafts – spinning, quilting, etc., dancers, D.A.R. booth, stamp cancellation, white elephant sale. From Flint go south on I-75 to exit 93, southeast on Dixie Hwy. (Rt. 24) 4.8 miles, go right on Hatchery Rd. for 0.6 miles to 4490 Hatchery Rd. Big white house and log cabin on hill next to a pond. Log Cabin Days both Saturday and Sunday, June 29-30. Hours l0 a.m. to 5 p.m. (248) 683-2697 or e-mail: strait649@comcast.net
(62) Waterford. Drayton Plains Nature Center has two log cabins, one built in 1939 and the other in 1976, reconstruction of a dirt-floor prairie log cabin. Located at 2125 Denby Drive, Waterford. Hours: 10 a.m.- 4 p.m. For more information call (248) 674-2119.
(63) Troy. Troy Museum and Historic Village, 1820's period log cabin moved from Monroe Co. Spinning and tours. Located at 60 Wattles Rd. (17 Mile Rd.) just west of Livernois. See Internet www.ci.troy.mi.us/museum/museum Hours 1to 5 p.m. (248) 524-3570.
(64) Battle Creek. Log cabin built in 1850s moved in l998 to Historic Adventist Village . Formerly on the grounds of the Leila Arboretum next to the Kingman Museum of Natural History, it is now located on the corner of Champion St. and Wood St. From I-94 take Battle Creek exit 98-B to town; on 4th traffic signal, turn left on Van Buren, go to Wood, turn right, go to 411 Champion St.. For more information contact Stanley Cottrell, Historical Adventist Properties. Hours: 1:30 to 5 p.m. after June 1. Suggested donation: $5.00. (269) 965-3000.
(65) Stockbridge. Waterloo Area Farm Museum with old l850s log cabin in Jackson Co. Blacksmiths, Soldiers, and Log Cabin Weekend. Pioneer family in log house, Michigan Aid Society will give re-enactment of traditions of mourning during the Civil War era, tours of farmhouse. The museum is at 9998 Waterloo- Munith Rd. 3 miles north of the village of Waterloo. Take exit l53 off I-94, follow Clear Lake Rd. to the village, turn left on Waterloo Rd., go 3 miles to museum. Admission, adults $4.00, seniors $3.00, children 5- 17 , $2.00. Hours: 10 to 5 p.m. on Saturday, noon to 5 p.m. on Sunday. (517) 596-2254. web site at http://www.waterloofarmmuseum.org/
(66) Jackson. Ella Sharp Museum, Eli Stilson log cabin, 1860s. Located at 3225 4th St. Please visit their website at www.ellasharp.org. (517) 787-2320.
(67) Manchester. Old log cabin, probably Civil War era, owned by Robert and Sandy Mottice. Originally in Pleasant Lake, it was moved in 1895 to Sharon Township(M52 & Peckins Rd.), then purchased by Robert and Sandy Mottice in 2008 and moved to their home near Manchester with other old buildings to create a farm museum. "We welcome interested visitors." Located twenty miles southwest of Ann Arbor. Take I-94 to Chelsea exit, go south on M-52 eight miles towards Manchester, go east (left) to East Pleasant Lake Rd. then one mile to a dark green house with red barn at 20830 East Pleasant Lake Rd. (734) 428-7717.
(67a) Ypsilanti. "Ypsirustica, the Ypsilanti Log Cabin." Built in 1935 and later covered in modern siding, he log cabin has been restored as a log cabin year-round home. Purchased Oct. 12, 2012 by the Shankwiler-Ratezyk-Tafini family, the public is invited to join them and spend a day there, with fun games, refreshments, and artistic outlets. Get your photo taken there! Located at 1318 E. Forrest Ave., three blocks north of Michigan Ave. between Miami and Mohawk. Directions: from I-94, exit 183: head west, turn onto S. Huron St., go right into US-12 Bus. E/W Michigan Ave.; turn left onto N. Harris Rd., take 3rd left onto E. Forest Ave. Cabin is on the left. From I–94, exit 186: going westward, take exit 186 towards Willow Run Airport, merge with Wiard Rd., keep left at the fork, follow signs for Us-12 west/Ann Arbor, and merge onto S 12 west. Take M-17 exit toward Ypsilanti, turn right onto S. Ford Blvd. Ph (734) 340-7051.
(68) Ann Arbor. Cobblestone Farm log cabin, ca. l835. Now called the "Willis Log Cabin," it was moved from Willis, Mich. on property owned by Lucy Look and her son, or possibly the Harris family. Take I-94 exit 177, Ann Arbor State St. exit, go north on to State St., turn east on Eisenhower at light. Go two miles, turn north on Packard to 2781 Packard. Admission $2.00 for adults, $1.50 for children 4 to 17. Hours: 12 to 3 p.m. (734) 994-2928.
(69) Taylor. Log cabin of the Taylor Historical Society, originally a sod-covered house, newly restored. Tours, exhibits, refreshments. Taylor is located between Ann Arbor and Dearborn. For more information call George Gouth, Pres. at (734) 287-3835.
(70) Dearborn. At Greenfield Village, log cabins on Maple Lane include the McGuffey birthplace log cabin and school and the George Washington Carver Memorial built in 1929 by Henry Ford. On I-94 take M-24 (Telegraph Rd.) exit, go east to US-12 (Michigan Ave.) to the entrance of The Henry Ford and Greenfield Village. Admission $12.50, $1l.50 seniors 62 & older, $6.25 for children 5 to 12; children 4 and under, free. Admission to The Henry Ford also is $22 for adults and $11 for children, 5-12. Open 9 a.m. to 5 p.m. In area codes 313 & 810 call 271-1260 or 1-800-DETROIT.
(71) Wyandotte. Log cabin built in 1942 at Bishop's Park on the banks of the Detroit River. Restored by members of the Wyandotte Owners Restorers Club, the cabin is now maintained by the Wyandotte museum and owned by the city. Take I-75 north going to Detroit, exit Eureka Rd. or North Line Rd. north. Located at Detroit River between Oak and Superior Blvd. . (734) 324-7283 or (734) 324-7284.
(72) Monroe. Navarre-Anderson Trading Post (1789) A French-Canadian piece-sur-piece log cabin (another is the McGulpin Cabin at Mackinac Island.) Now with white clapboard siding, a window cut out to show the logs, it was moved two miles west of its original location on the Raisin River and restored by the Monroe County Historical Society. Take US-75 to Monroe, E. Elm St. exit 14, go west and continue past town. E. Elm turns into Custer Rd.; go past Telegraph Rd./US-24 about 3-4 miles more, watch for corner of N. Custer and Raisinville Rd. with a brick store with parking area at the river. Wigwams and Native American garden. For information contact Ralph Naveaux, director, at (734) 240-7782 or (734) 240-7781.
(73) Lambertville. Bedford Twp. The historic Ina Duley Ogdon log cabin (1830.) Purchased and remodeled ca. 1920 by the hymn writer and her husband, it is located on an old Indian trail now called Summerfield Rd. She wrote the words of the famous hymn, "Brighten the Corner Where You Are." The house has an 1865 log cabin attached to it. The Bedford Historical Society is seeking help to save the house, contact Melissa Archibald. Located in Monroe County off US-23; take the Sterns Rd. exit, go east to Summerfield Rd., turn right, go to 6829 Summerfield Rd. (Has Temperance, MI address.) See: www.freewebs.com/marchi?
(74) Grosse Pointe. Restored log cabin (ca. 1830-70) behind the Provencal-Weir house with Grosse Pointe Historical Society sign. It was believed to have been the home of a homesteader in Macomb County and moved in 1938 to the rear of Christ Episcopal Church in Grosse Pointe and used by Boy Scouts. It was moved on May 17, 1997 (logs disassembled) and reconstructed and restored between Sept. 1998 and Jan. 1999 by members of the Grosse Pointe Historical Society. Take I-94 to Moross exit east, turn left, cross Mack – 2 lights, go left on Kercheval to the museum – 3rd house on right, 381 Kercheval. Hours: 1 to 5 p.m. Ph. (313) 885-9241 or (810) 445-0041. Call first.
Palmer Park log cabin (1885).
(75) Detroit. Palmer Park log cabin (1885) was built as a summer home for Senator Thomas W. Palmer and his wife Lizzie.   Free access to the cabin is provided on Log Cabin Day (June 30, 2019), an annual celebration sponsored by People for Palmer Park and the City of Detroit. See some of the 'modern' amenities of the day: Mrs. Palmer's treasured American Jewel stove, an indoor toilette, and Victorian-style pocket doors.  The highlight for many will be the recently restored original stained-glass windows and Dutch front door! Visitors at this fun-filled free family event are welcomed throughout the cabin by historians and actors in costume as well as treated to an old-fashioned ice cream social, live music with young fiddlers, traditional blacksmith demos, hat-making with a hat and bonnet parade/contest, Civil War camp with the 102nd USCT Black History group, African American quilters, locally-made refreshments, and much more. It has become an annual summer event that reconnects people of all ages to early Detroit memories and history, and aspirations for Detroit's continued revival.
More about the cabin :   The cabin is rustically covered on the exterior with trees harvested from the surrounding forest, with a Victorian-style interior designed by architects George Mason (who designed Masonic Temple) and Zachariah Rice (the two also designed Mackinac Island's Grand Hotel, the Detroit Yacht Club and many other notable buildings).  Built in 1885 by Senator Thomas Palmer and his wife Lizzie as their summer retreat, the cabin was once filled with antiques and visitors who would travel north on Woodward in horse-drawn carts. By 1897 Palmer had donated the cabin and majority of the land surrounding it which would come to be known as Palmer Park.  Only log cabin in Detroit, it is near south entrance of the park. It is leftward around lake at the end of a winding trail. Palmer Park is located west of Woodward Ave. between McNichols (Six Mile Rd.) and Seven Mile Rd. Take 1-94 into Detroit, take the exit going north, then exit on Woodward. Go north past McNichols intersection (no left turn), go two short blocks to a turn-around on Woodward, then across to park. Open morning to dusk.  For more information see "Senator Palmer's Font Hill Log House and Famous Log Cabin Farm" and "Alex Atwell, "A Log Cabin in Detroit? The history of the historic retreat in Palmer Park", Click on Detroit, June 21, 2016.
(75a) Bloomfield Township. 1836 log cabin of round logs now being restored by the Bloomfield Historical Society. Originally on property of William D. Craig, it was moved to the Charles L. Bowers School Farm at 1219 E. Square Lake, Directions: take Woodward Ave. North from Detroit to Bloomfield Hills, turn right on Long Lake Rd. , go left on Eastways Rd. and go east then north to E. Square Lake Rd. to Bowers School Farm. For more information call (810) 656-1353. Open Saturday, 6/29/13, noon – 3 pm. Closed on Sunday, 6/30/13, but can be viewed from the highway.  Palmer Park is an urban oasis of 296 acres of lawns and historic woodlands, a Splash Park and playscape, tennis courts, hiking and biking trails, Lake Frances, and some of the most valuable and diverse ecosystems in the state. Located between 6 and 7 Mile Roads and west of Woodward Avenue in Detroit, Palmer Park has been a treasured nature park and recreation site for more than 120 years.
(76) Southfield. Log cabin built in l941, now used as law office of Atty. James Schuster at 24330 Lahser St. 1/4 mile south of Ten Mile Rd. intersection. Located a mile east of US-24. Visible from road, no open house. (810) 356-3500.
(77) Clinton Township. Williams Log Cabin (1830s) next to the Clinton Township Offices, moved from intersection of Canal and Romeo Plank roads across the street and maintained by the Greater Clinton Historical Society. See: www.ctwphc.org (586) 286-9173.
(78) Algonac-Clay Township (or Pearl Beach). An l830's log cabin maintained by the Algonac-Clay Township Historical Society. It is located 3 miles south of Algonac on M-29 on the St. Clair River. Crafts, farm equipment, ice cream social, games. Directions from Detroit: take I-94 to 23 Mile Rd. exit towards New Baltimore and Algonac. Stay on M-29 about 3 miles past (north of) Colony Tower. Cabin is behind Clay Twp. City Hall at 4710 Pte. Tremble Rd., Algonac. Hours: 1 to 4 p.m. (810) 794-9015.
(78a) Wales Township. Mudge Log Cabin (1860s) built by Civil War surgeon, Dr. Isaac Mudge. The cabin was removed from the Mudge farm (St. Claire County) and is now located Goodells County Park. The cabin was dismantled and restored over a three year period by St. Claire County Parks and Recreation. It will be celebrated as a log cabin heritage event on Saturday, June 25 (not Sunday, June 26) The event will be from 9 a.m. to 4 p.m. For direction contact http://www.stclaircounty.org/offices/parks/forms/Goodells-Directions_large.pdf or contact Dennis Delor at St. Clair Co. Parks and Recreation at (810) 989-6929.
(79) Richmond. The Donley Log Cabin (1853) recently moved by the Richmond Historical Society to the Historical Village at Bailey Memorial Park, next to a one-room schoolhouse and train station. The log cabin was nearly lost in a fire before being moved here. Planned for 2011: St. Clair Voyageurs and ACWSA ( American Civil War Shooters Assoc.) and cannon. On I-94 going from Detroit towards Port Huron, take Richmond/New Haven exit, go north to Gratiot Ave., turn right (east) and come into Richmond on M-19, turn left at Park St. and look for the big city clock turn right and go two more blocks. Hours: 12 to 4 p.m. For more information, librarianlori@yahoo.com
(80) Macomb. A new Rocky Mountain Log Home, built by Tom Trammel. Take M-29 west from I-94, go left on Hallenius Rd., then left on Ridge Rd., located at 52631 Stagg Ridge Rd. Call first, (888) 554-7393.
(81) Port Huron. On the grounds of the Port Huron Museum is the Kammer family log cabin built around 1854. The museum is at 1115 Sixth St. Hours: 1 to 4:30 p.m. (810) 982-0891.
(82) Port Sanilac. Behind the Sanilac Historical Museum are two pioneer structures: a reconstructed pioneer barn and the 1882 Banner Cabin. Pioneer crafts demonstrated. The museum is located at 228 South Ridge on west side of Highway M-25, south edge of Port Sanilac. Hours: 1 to 4:30 p.m. (810) 622-9946.
(82a) Mayville. Mayville Area Museum of History and Genealogy. Pancake breakfast from 9 a.m. to 2 p.m. with lots of activities and special displays for Log Cabin Day. In Tuscola Co. on US-24 south of Caro, located at 2124 E. Ohmer rd. See website www.rootsweb.ancestry.com/~mimmhs Open 9 a.m. to 5 p.m. Tel. (989) 843-7185 (office) or (989) 843-0011.
(83) Parisville. In Huron Co. at the site of the oldest Polish settlement in the U.S. (1854) is a log house built about 1876, now used as the Archives/Library of St. Mary's Historical Society. "156 Years of Poles in Parisville." It is north of the church. Take M-142 east of Bad Axe l0 miles, turn south onto Parisville Rd. and go 6 miles. Near Ubly. Open 1 to 4 p.m. (989) 479-9114.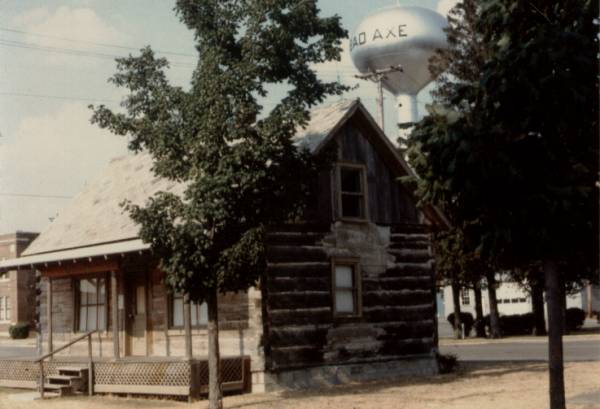 Bad Axe Pioneer Log Village, where Log Cabin Society of Michigan was founded in 1988.
(84) Bad Axe. The Pioneer Log Village includes six restored l9th century log cabins: a pioneer log home, a chapel, a blacksmith shop, a general store, a school, and a barn. Live pioneer music and dancing, crafts, hymn singing. Located in the city park downtown. Bad Axe is in Michigan's Thumb, take M-53. Hours: 11 a.m. to 6 p.m. (989) 269-8325 or 269-3084.
(85) Elkton. An 1865 log cabin in Ackerman Memorial Park maintained by the Elkton Historical Society, which welcomes visitors. Elkton is located on M-142, 9 miles west of Bad Axe. Hours: 1 to 5 p.m. (989) 375-2598.
(86) Harrisville. Craftmakers Cabin, built by WPA in 1937. If not open it can be viewed from outside. At Lake Huron, corner of US-23 & M-72. (989) 724-6699 or 724-5563.
(87) Harrisville. Old Bailey Log Schoolhouse (1907) near Sturgeon Point Lighthouse. Restored by the Alcona Historical Society, it was moved log-by-log from Mikado. Strawberry social. Take US-23 north of Harrisville 3 miles, right on Lakeshore Dr., go one mile to Point Rd. and the lighthouse. Hours: 10 a.m. to 4 p.m. (989) 848-8846.
(88) Comins. Michigan Magazine Museum log cabin erected in 1998 to house Michigan Magazine memorabilia, representing arts and crafts of people interviewed on their public television program for the past twenty years by Dell Vaughan, Barry Stutesman and Nelson Yoder. The museum is closed. See: www.michiganmagazine.com Phone (989) 848-2746 email info@michiganmagazine.com
(89) Alpena. Log Cabin at Besser Museum for Northeast Michigan. Take US-23 (north of M-32), turn east on Johnson St. Open 1:30 to 5 p.m. See www.oweb.com/upnorth. (888) 526-6873.
(90) Cheboygan. A mid-19th century log cabin built by the Burt Lake Indian band, on the corner of Court and Huron streets maintained by the Historical Society of Cheboygan County. (231) 627-5002.
(91) Good Hart. Log Cabin (ca. 1850) owned by Cedric and Moragan Richner. Go to Harbor Springs on historic M-119 then go north 14 miles. Located at the intersection of Middle Village Road and M-119 on the side of the lake. No open house, visible from highway. E-mail the owner: Cedric@RichnerRichner.com.
As new cabins turn up, however, others risk ruin both from exposure to Michigan's harsh winter weather and from neglect. Examples are an old cabin in Dowagiac, described as "returning to nature," and a log cabin built in 1885 for Sen. Thomas W. Palmer that is the only one in Detroit. At last reports, the Palmer place had lost its chinking, exposing its interior to the elements. The loss of the Palmer and Dowagiac cabins seems as inevitable as it is lamentable, given Michigan's economy and society's priorities.
Sources:
Roland Sweet, "Celebrate Log Cabin Day in Michigan", courtesy of Log Home Living.
Log Cabin Society of Michigan Facebook Page