When:
2022-05-23T00:00:00-04:00
2022-05-24T00:00:00-04:00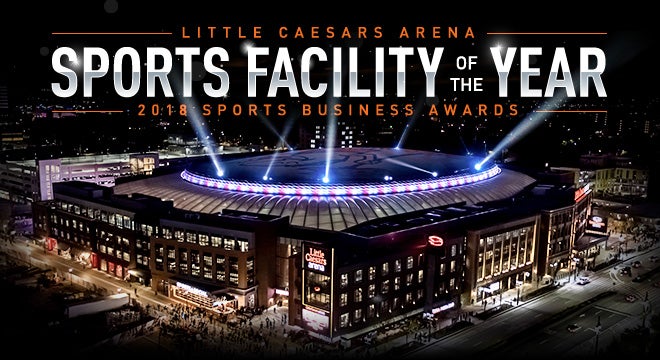 The state-of-the-art Little Caesars Arena received the prestigious Sports Facility of the Year award at the 2018 Sports Business Awards Ceremony at the New York Marriott Marquis in New York City on May 23, 2018. Launched in 2008, the industry-leading Sports Business Awards were established by SportsBusiness Journal and SportsBusiness Daily to celebrate and recognize the leaders, visionaries and day-to-day practitioners who personify excellence in the business of sports.
The home of the Detroit Red Wings and Detroit Pistons and other sports, entertainment and community events, Little Caesars Arena earned the award among a group of six finalists that also included Notre Dame Stadium, SunTrust Park/The Battery Atlanta, T-Mobile Arena, Target Center and U.S. Bank Stadium. Previous award winners have included Golden 1 Center, Daytona International Speedway, Levi's Stadium, Madison Square Garden, Barclays Center, Target Field, Cowboys Stadium, Lucas Oil Stadium and AT&T Park. An expert panel of editors, writers and researchers from SportsBusiness Journal and SportsBusiness Daily chose Little Caesars Arena based on excellence, growth, creativity, innovation, sound planning, implementation and outcomes.
"We're thrilled to continue celebrating the Inaugural Season at Little Caesars Arena with this prestigious award," said Christopher Ilitch, President and CEO of Ilitch Holdings, Inc. "Our vision for what Little Caesars Arena could offer to fans, players, artists and community members drove us to create something very special and highly innovative. Every aspect of Little Caesars Arena was designed to enhance the guest experience, and we appreciate that those efforts continue to be recognized."
Since its opening on Sept. 12, 2017, Little Caesars Arena has been the home for more than 150 ticketed events for 2.3 million fans, including a combined 82 Red Wings and Pistons regular season home games, more than 50 concerts and shows, and 15 additional sporting events. The multi-purpose facility has also hosted more than 100 private events, and is on track to be one of the busiest arenas in the world during its first full year of operation.
"I just love Little Caesars Arena. It is incredible," said NHL Commissioner Gary Bettman. "Every seat in the house is great. In addition to being state-of-the-art, it has every conceivable amenity. An incredible use of technology, and a remarkable tie to history and tradition of this great Original Six franchise. In terms of the fan experience, it is as good as you get in a public facility."
A Cornerstone of The District Detroit
Little Caesars Arena is one of more than a dozen developments launched by the llitch organization in The District Detroit since 2015. More than $1.4 billion in development is underway or planned, setting the stage for additional retail, office and residential projects. Development in The District Detroit has already created more than 20,000 construction and construction-related jobs and more than 3,000 permanent jobs after the opening of Little Caesars Arena, two-thirds of which were filled by Detroiters. These future projects will continue to grow the city's economy and create new opportunities for Detroit and for Michigan.
The construction of Little Caesars Arena positioned Detroit as the only city in America that houses all four of its professional sports teams in an urban core — all within walking distance. Home to the Detroit Tigers, Detroit Red Wings, Detroit Pistons and Detroit Lions – The District Detroit represents the greatest density of professional sports teams in one downtown core in the country.
Best in Class Safety and Security
In Nov. 2017, Little Caesars Arena received SAFETY Act Certification, the highest level of protection awarded by the U.S. Department of Homeland Security. The facility became the first combined NHL, NBA and entertainment venue, and the only arena in the country, to earn the certification.
Reimagined Arena Design
Little Caesars Arena exemplifies modernization with its deconstructed model. This first-of-its kind implementation blurs traditional physical and experiential spaces, with interior streets in the street-level Via concourse acting as a retail galleria with offices, four full-service restaurants, amenities and rich history. The design highlights the Ilitch organization's focus to look beyond the typical arena to positively impact the broader community.
An Arena Immersed by Innovation
The Ilitch organization's vision for what Little Caesars Arena could be drove it to deliver much more than a state-of-the-art facility – to create something very special and highlight innovative. That systematic approach to innovation and fan experience is evident throughout the facility, including signature public and premium spaces, the BELFOR Training Center, unique heritage elements, a 600-foot long projection jewel skin, one of the largest center-hung scoreboards in the world, 3-D image mapping, a versatile sky deck, over 1,300 display screens and more.
The Chevrolet Plaza is an inviting outdoor space complete with a 900-square foot video board and technology that can host pre-game fan interactive activities or other community events for up to 3,000 people.
The Michigan First Gondolas feature semi-private boxes designed to allow groups to entertain from the most unique vantage point imaginable. Perched above the crowd, directly over the action, the gondola provides guests an experience that few venues can provide.
There are seven additional options for premium seating at Little Caesars Arena: The Comerica Players Club, East Club, Rehmann Club, Huntington Legends Club, East and West Sideline Club and Labatt Blue Club.
The BELFOR Training Center, located beneath the Chevrolet Plaza, is the official practice facility of the Red Wings and is also home to Little Caesars Amateur Hockey. Established by Mike and Marian Ilitch in 1968, the Little Caesars Amateur Hockey program celebrated its 50th anniversary season in 2017-18 and has provided opportunities for tens of thousands of youngsters to play the great game of hockey over the years.
Among many other features that celebrate Detroit's great sports and entertainment heritage, the arena's upper level concourse includes its own interactive experience – The Ring of Honor, which features three touch screen monitors that pay homage to the Detroit Red Wings' 11 Stanley Cup teams, and the Detroit Pistons' three NBA championship teams.
The jewel skin, also located on the upper concourse, is a one-of-a-kind video system using 12 laser projectors to turn the façade of the upper bowl into a constantly changing media panorama. It has become one of the facility's signature design elements, immersing fans the moment they arrive through programmable video and graphic content that can be quickly transformed depending on the event.
Little Caesars Arena's center-hung scoreboard measures more than 5,100 square feet and is the largest seamless center-hung system in the world. It features a continuous display connecting all four sides with each side measuring approximately 28 feet high by 43.5 feet wide. Combined with the under-mount displays to appeal to fans sitting closer to the action, the center-hung display includes approximately 11 million LEDs.
Image mapping, a new projection that allows the creation of 3-D images that is displayed on the ice and basketball court, was also incorporated in the Inaugural Season at Little Caesars Arena.
A total of 45 LED displays featuring more than 13,500 square feet and more than 16.5 million LEDs were installed in and around the new arena before its opening.
Little Caesars Arena features a world-class theatrical lighting package, highlighted by a first-of-its-kind LED lighting grid that provides Red Wings and Pistons players with the best sports lighting possible, and creates an active, animated ceiling for events of all types. Using the ceiling's wire mesh as a scrim, the lighting can be used to engage the visitor, create different moods and project logos, advertising and other branding.
ABOUT LITTLE CAESARS ARENA
Little Caesars Arena in The District Detroit serves as the home of the Detroit Red Wings, Detroit Pistons and countless other sports, entertainment and community events. Rich with the tradition of the Original Six™ Detroit Red Wings, three-time world champion Detroit Pistons and Detroit's incredible musical heritage, the arena also features state-of-the-art technology, fan amenities, and active community spaces like the Via, the BELFOR Training Center and the Chevrolet Plaza. The District Detroit unites world-class theaters, four professional sports teams and three professional sports venues including Little Caesars Arena in one vibrant, walkable destination for people who want to live, work and play in a dynamic urban environment.
Source: 313 Presents website, May 24, 2018