When:
September 28, 2023
all-day
2023-09-28T00:00:00-04:00
2023-09-29T00:00:00-04:00
The fourth Friday in September of each year shall be known as Michigan Indian Day.  This date is not to be construed as a legal holiday.
MCL 435.161
Although Michigan Indian Day was enacted in 1974 (Public Act 30), it did not gain momentum until 2007 when the House of Representatives resolved the following:
Michigan Indian Day is an excellent opportunity for Michigan citizens to better understand and appreciate the many contributions that people of Native American descent have made to our state.
The state of Michigan has the 9th largest population of American Indians in the country – more than 125,000.
Native American people have made vast contributions to the landscape, culture, history, politics, and economy of Michigan.
Today, Native American people significantly contribute to environmental protection by setting an example of good stewardship, intergovernmental cooperation in police and fire protection, as well as leadership in securing an international accord to oppose diversion of Great Lakes Basin waters.
Michigan should designate a day to focus attention on the many cultural and historical contributions of Michigan's Native American community.
As a sovereign nation, the Saginaw Chippewa Indian Tribe of Michigan recognizes and celebrates this as an established Tribal Holiday.
Information provided by: Ziibiwing Center of Cultural Lifeways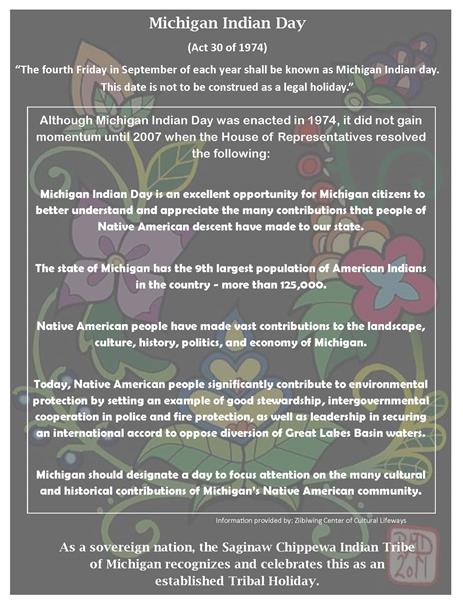 The Michigan Senate also adopted a resolution sponsored by Sen. Wayne Schmidt to establish the fourth Friday in September as Michigan Indian Day in 2015.  Pictured (from left) are Sen. Wayne Schmidt, Bay Mills Indian Community Pipe Carrier Dwight Bucko Teeple — who led the invocation — and Lt. Gov. Brian Calley.
Pokagon Band of Potawatomi.
Here's the text since the above image is hard to read:
WHEREAS, The presence of the Anishinabek in present day Michigan dates back centuries and the indigenous peoples and tribes of Michigan have contributed much to our State's success, history, and cultural heritage; and,
WHEREAS, The State of Michigan is grateful for the government-to-government partnership that it shares with the twelve federally recognized tribes within its borders: the Lac Vieux Desert Band of Lake Superior Chippewa Indians, the Keweenaw Bay Indian Community, the Hannahville Indian Community, the Bay Mills Indian Community, the Sault Ste. Marie Tribe of Chippewa Indians; the Little Traverse Bay Bands of Odawa Indians; the Grand Traverse Band of Ottawa and Chippewa Indians; the Little River Band of Ottawa Indians; the Match-E-Be-Nash-She-Wish Band of Pottawatomi; the Pokagon Band of Potawatomi; the Nottawaseppi Huron Band of the Potawatomi, and the Saginaw Chippewa Indian Tribe; and,
WHEREAS, Public Act 30 of 1974 establishes the fourth Friday in September as Michigan Indian Day; and,
WHEREAS, In 2002, the State of Michigan and federally recognized tribes entered into a Government-to-Government Accord, providing a framework for partnerships that recognize a shared responsibility to protect the health, safety, and welfare of our common citizens. The 2002 Accord sought to enhance and improve consultation between the State and Tribes, foster respect for each other's sovereign status, and facilitate the resolution of potentially contentious issues; and,
WHEREAS, Governor Rick Snyder recognized and affirmed the State's commitments under the 2002 Government-to-Government Accord through Executive Directive 2012-2, which further called on the State and Tribes to carry out their commitments to improving mutual partnerships; and,
WHEREAS, The 2002 Government-to-Government Accord calls for an annual meeting to develop joint strategies; and,
WHEREAS, The Tribes and native people within Michigan contribute significantly to regional community and economic development in our state, and the State and Tribes have established various annual meetings and consultations to address issues of common concern; and,
WHEREAS, It is mutually beneficial to the State and Tribes to convert meaningful consultation to active collaboration in furtherance of our mutual goals to strengthen our communities, promote the health and well-being of our citizens, promote wise and scientific management of our resources, promote education and career training opportunities, and create jobs and investment in Michigan; and,
WHEREAS, The development of strong and reliable government-to-government relationships between the Tribes and the State is beneficial to all of the citizens of Michigan; and,
WHEREAS, We are honored to welcome the twelve federally recognized tribes located within Michigan to our State Capitol in Lansing for the purpose of fostering meaningful consultation and dialogue to improve upon our valued government-to-government partnerships at the Annual State-Tribal Summit on September 24, 2015;
NOW, THEREFORE, I, Rick Snyder, governor of Michigan, do hereby proclaim September 25, 2015, as Michigan Indian Day.
Native American Day 2018, 2019 and further
View below the dates for (among others) Native American Day 2018 and Native American Day 2019. You can also see on which day the holiday falls and how many days it is until this holiday.
| | | |
| --- | --- | --- |
| September 28, 2018 | Native American Day 2018 | Friday |
| September 27, 2019 | Native American Day 2019 | Friday |
| September 25, 2020 | Native American Day 2020 | Friday |
| September 24, 2021 | Native American Day 2021 | Friday |
| September 23, 2022 | Native American Day 2022 | Friday |
| September 22, 2023 | Native American Day 2023 | Friday |
| September 27, 2024 | Native American Day 2024 | Friday |
| September 26, 2025 | Native American Day 2025 | Friday |
| September 25, 2026 | Native American Day 2026 | Friday |
| September 24, 2027 | Native American Day 2027 | Friday |
| September 22, 2028 | Native American Day 2028 | Friday |
Related:
Native American Culture in Michigan
Native American History, Art, and Culture
Native American Studies Research Guide, including tabs on Michigan's American Indian Heritage and Michigan Notable Indians