When:
2018-06-18T00:00:00-04:00
2018-06-19T00:00:00-04:00
Big City Greens  is an American animated television series produced by Disney Television Animation. The series is created by Chris and Shane Houghton, who grew up on five acres of land just south of St. Johns, Michigan and graduated from St. Johns High School before heading off to college and eventually Los Angeles. Director Rob Renzetti serves as executive producer, and the Houghton brothers serve as co-executive producers. The show premieres the week of Disney Channel of June 18-22, 2018.
Chris and Shane Houghton
As children, the Houghton brothers' nearest neighbor was a half mile away, but a creek running through the property provided hours of entertainment  They built make-shift dams and tree forts, played with the pigs and chickens on the property, and ran through the wooded area behind their house.
Their rural Clinton County roots left a life-long impression and helped inspire a comic book series, "Reed Gunther", about a Grizzly Bear-riding cowboy who fought monsters in the wild west.  (For more information check out the April 18th post.)
Now it's become the springboard for "Big City Greens", a new Disney Channel cartoon the brothers created.  It's based on memories of their family, friends, and community members in St. Johns.
It premiers June 18th on the Disney Channel and has already been picked up for a second season.  Chris Houghton even provides the voice of the main character, Cricket Green, a ten-year old from the country who moves to the big city with his family.  Other characters include Cricket's older sister Tilly, his dad Bill, and Gramma whom they are living with.  The first season will include 30 half-hour shows, with each show offering two cartoons.  The show has a staff of 50 people, who do everything from writing the dialogue to working on the story boards.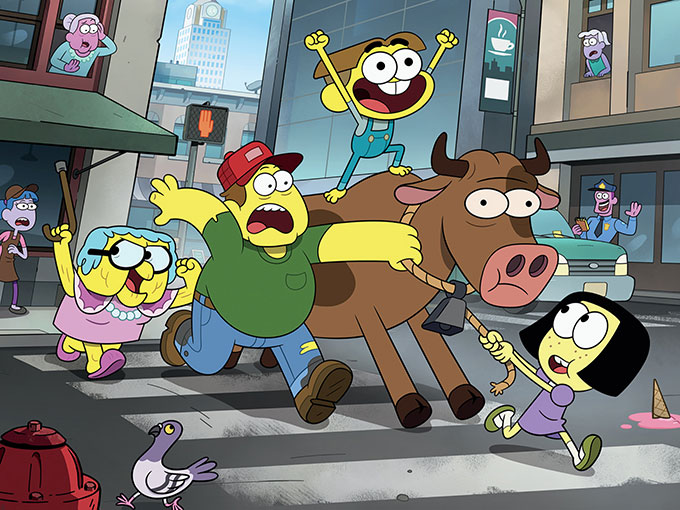 Viewers get to watch them put down roots in a strange new place — the city.  The message to kids watching is simple, the brothers said — anyplace is home  when you have friends and family with you.
Sources:
Rachel Greco, "New Disney Cartoon Inspired by St. Johns Roots" Lansing State Journal, June 19, 2018.
Charley Ridgely, "'Big City Greens': Watch an Exclusive Clip From Disney's Newest Animated Series", Comicbook/Tv Shows, June 5, 2018.
Dave Trumbone, "Exclusive: Disney's 'Big City Greens' Images Reveal the Co-Creators' Real-Life Inspiration", Collider, June 5, 2018.
Big City Greens Theme Song from Comic-Con 2017.  July 21, 2017.
Big City Greens wikipedia entry.
Ellen Wolff and Ramin Zahed , "Animation Magazine's Rising Stars of 2018", Animation Magazine, April 2018.